When From The Gut Theatre first formed, they imagined themselves staging plays that would speak to audiences within their own age group, but quickly found that acquiring the rights to these plays was more expensive than a fledgling theatre company could afford.  Instead they identified what was lacking in the industry for artists and creatives, and have put themselves at the forefront of addressing these needs.
Sam Angell and Nick Howden-Steenstra met at LAMDA, where they both graduated in 2015, Danielle Phillips was in the year below, but says she spent more time in Sam and Nick's year group. It was over a drink in the pub that Sam and Nick discussed their issues with the industry, and From The Gut was formed, "we were talking about how sick we were of going up for auditions you know you won't get or that don't excite you," says Sam,  "so we had a conversation about making our own work, and the next morning we had a new theatre company."
From The Gut started with a one act play, number 40, before they debuted their first full length play Istanbul at Katzspace.  The play, about the 2005 Champions League Final, where underdogs, Liverpool beat A.C. Milan, is where Danielle came on board, eventually becoming the third member of From The Gut when Istanbul transferred to Edinburgh Fringe last year.
Danielle says, "The Fringe was a massive thing for us, it was exhausting, and it exasperates any sanity that you have as you are pulled in twenty different directions that the industry requires of you, and we sat on Arthurs Seat and said how do we make this better?  There must be a saner way to sustain a company without all the drama that comes with it."
This idea of finding a way to do things differently came naturally to From The Gut, they had already helped other aspiring young artists approach the industry from a different angle, "I grew up in Warwickshire and my training there was pretty am dram," explains Nick,  "it didn't prepare me at all for what drama school would be like, the first couple of years I was just shouting at auditions because I thought that's what acting was."
So one of the first things From The Gut did was to run a five week course at Stratford East for people who hadn't trained, to prepare them for what drama school was like, bringing in teachers from different drama schools to support.
Sam says, "These introduction to drama school workshops came about because Kerry Michael was working with young people who weren't from well off backgrounds to be able to pay for help, so we thought we could help, and that gave us the passion to do something different from a 'normal' theatre company."
With a history of helping others, From The Gut realised where they needed to go next at last year's Edinburgh Fringe, "we had given a lot emotionally and artistically, we pushed ourselves too far and it was hard to then take it to the next stage," says Nick.  "But we were able to acknowledge what we need, and the problems we face as a young company, and now we want to take that and help other people work better."
"Awareness of mental health is becoming more prevalent within the industry, people are waking up and realising that we are at a crisis point.  Alice Brockway has launched Playing Sane, working with artists and drama schools to making them more aware about mental health."
Alice Brockway will be one of a group of practitioners who will be running workshops at From The Gut's next venture, a seven day Well-being & Making Work Retreat for creatives to explore new work. But, where this retreat differs from others like it, is that mental health will be at the forefront of the creative process.
Danielle says, "when you're a freelancer there's no HR department, it's a really solitary career that can sometimes be unrewarding.  If you live in London where the cost of living is ridiculous, that means you have to work more, where do you find the time to be creative?"
So From The Gut will host their Well-being & Making Work Retreat at Slack House Farm in Cumbria, away from the pressure of London life, with days that are structured so there's plenty of free time to create, and also time to come together and talk, learn and share experiences with each other. "We want a network where people can come together and share, even after the retreat has ended," says Danielle
Putting the retreat together has been six months of hard work for From The Gut, and it's meant sacrifices all round, "we had applied for Arts Council funding, and they asked us to implement a number of things to support our application," explains Sam, "it was expensive to implement these things and ultimately they will make the retreat better, but we have now been turned down for the funding, which leaves us with a huge bill to find the money for."
Nick says they've had some support, "The Andrew Lloyd Webber Foundation and Really Useful Group have given us some money, as have some angel contributors.  We had hoped to make the retreat free for participants but now we're having to ask for a contribution, it's still significantly cheaper that similar retreats."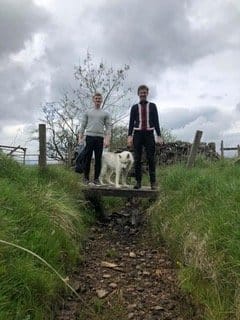 And while similar retreats do exist, they are usually focussed on the process to achieve an end product, as far as From The Gut are aware this is the first retreat that puts mental health at the beginning of the experience. "There are great things happening in pockets," says Nick, "we are all doing different things to achieve the same goal, I hope our retreat is the first step in bringing us all together."
Sam says that the notion of suffering for your art is a ridiculous notion, "we need to stop people thinking the only way for them to be valid artists is if they suffer for it, instead we need to get people understanding that better mental health makes better art".
From The Gut are putting it all on the line to improve the way people in the creative industries work, and it's a massive challenge for them, but its clear that they have built this Well-being & Making Work Retreat, and their whole ethos, from their own experience and understanding of the way the industry works.