Niamh Cusack stars in the world premiere of Colin Teevan's The Seven Pomegranate Seeds alongside Shannon Hayes. This is the second Rose Original production in Christopher Haydon's inaugural season as Rose Theatre's Artistic Director and is directed by Melly Still.
Niamh Cusack is an associate artist at the Rose, and starred as Lenu in the premiere of My Brilliant Friend – Parts 1 & 2 at the Rose, and when it transferred to the National Theatre.
While The Seven Pomegranate Seeds is making its world premiere on stage, it's not the first time Niamh has been involved in a production of it, "I did this play as a radio play about two and a half years ago, and that's when I met Colin", explains Niamh, "he said he had always imagined it as a play to be performed in a theatre."
&nbsp &nbsp &nbsp &nbsp
Colin's comment must have stuck with Niamh, "I woke up one morning when I was just about to finish doing My Brilliant Friend at the National. I just woke up, and I thought I should send this play to Melly for her to have a look at."
Melly was also directing My Brilliant Friend and Niamh suspected that it might take some time before she got an answer back, "I'd almost forgotten I'd sent it to her," laughs Niamh, "then early on in lockdown, she rang me, and she said, what do you think about us bringing this to the Rose?"
Niamh had imagined a smaller theatre for the stage production, "but Melly could see it happening in that big theatre, she has that sort of imagination; she's great on big stages, she's happy on big stages."
So, following months of uncertainty around when, and if, theatres could reopen, The Seven Pomegranate Seeds finally made it to the stage of the Rose Theatre. Speaking just after the first preview performance, Niamh said, "I really feel like the audience were with us, it's wonderful to be back on stage and at The Rose, it's a lovely auditorium. You never really know a play until you do it in front of an audience, I heard things in the first preview that I didn't know were there."
The Seven Pomegranate Seeds is made up of seven individual stories, "and they're all women's stories," says Niamh, "The characters are actually inspired by characters in plays by Euripides. So, there's a sort of classical link, but they're all set now, really, or any time."
"It's a story of a woman; she starts in her early teens and goes through to a woman in her 60s. It could be single stories, they could be all separate women, but they could also be one woman. That sort of ambiguity is one of the things you'll take away."
&nbsp &nbsp &nbsp &nbsp
Niamh reflects on the fact that what she describes as an 'everywoman play' has been written by a man, "Colin has done a brilliant job of capturing the female voice. I think that anywhere where perhaps he's being very careful, or maybe a little bit too nice, we've roughed it up a bit, it's been such a collaborative process and we've been allowed to do that."
Much of that collaborative nature of the work Niamh attributes to the style of director Melly Still, "Melly and I have worked together before, and she's such a wonderful director, it just makes the whole experience feel amazing. Melly's also brought in some other people that she's worked with previously so it feels like a really tight knit team."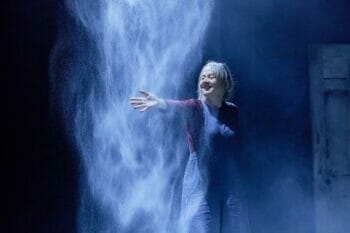 Niamh's co-star, Shannon Hayes, has joined this team afresh, "I think Melly and I knew we got on, and we spoke a language to each other that we understood. I think with Shannon, she must have gleaned that because almost immediately she fitted right into that way of working. It means there's a fundamental trust, and that is in the entire room."
Working with Shannon has been a joy for Niamh, "I love working with Shannon, she's so smart and gifted, and funny, and astute. Seeing what her imagination came up with made my work better. I got thoughts from her, and I hope she got thoughts from me, but to be honest, it was a very visceral, proactive experience in the rehearsal room."
"Shannon is in her mid-20s, and I'm in my early sixties, so we both bring own histories to it and our own stories as well. I mean, there are stories within the stories that we certainly identify with or have a relationship with, in terms of people we know."
Niamh thinks that audiences will enjoy just how accessible this production is, "It is rooted in the classics, and told in verse, but it is very easy to understand. I think because the language is so modern, it's really accessible in terms of understanding what's being said. It's not like Shakespeare; it's not like classical language; it's very contemporary."
"It does touch on the big issues about misogyny, about the patriarchal system, about people being destructive in marriage. It also talks about women being full of complexity, so as flawed as anybody else. It's a play for now, but it's done in a way that's very delicate and light."
Niamh's excitement at being back on stage is palpable, "It's wonderful to be back on stage and at The Rose, it's a lovely auditorium. It's really important that it's reopened, and it's important for Kingston; it's important obviously for theatre in general that there's another theatre opening."
"I think Chris, the new artistic director, has an energy and a passion that we will need over the next couple of years because there's no getting away from the fact that it's not easy."
With The Seven Pomegranate Seeds now officially open, Niamh hopes that audiences will be keen to return to the Rose, "I think this play is embracing that fundamental need that we all have, to be told a story. If you love beauty, if you love art, if you're a visual person, I think this will be something that you would enjoy as well. The telling of the story is not just the language; it is in the way we move it on the stage, this is a completely theatrical experience."
The Seven Pomegranate Seeds starring Niamh Cusack is at the Rose Theatre until 20th November 2021.