How quickly July has flown by, and now we've reached August and the world flocks to Edinburgh, it's time for our final Pick of the Fringe Article.
Check out our other issues of Pick of The Fringe articles and Must book articles, and keep checking back for lots of Fringe Reviews and Interviews.
Don't forget if you're heading to Edinburgh Fringe this year it's best to plan, plan, plan! With so much going on you won't want to waste a second!
Have a wonderful 70th Edinburgh Festival Fringe.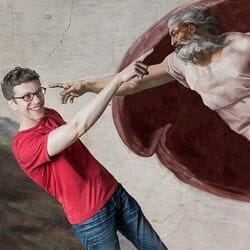 Fringe First-winner (Dirty Great Love Story) puts the mess into Messiah. Rebooting religion, God picks atheist Todd as her Chosen One. Now Todd's doing good… badly. Comic drama about why we believe. How would you change the world? From writer of Skittles, Wingman, Cardboard Heart, Love & Sweets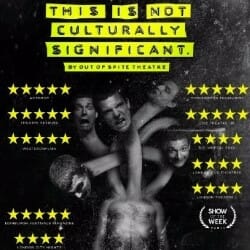 A brutally intense, darkly comic one-man show that unveils the compulsive and eccentric nature of humanity. This thunderous, high-energy piece of theatre is performed entirely nude and combines dark clowning and deeply grotesque bouffon to create sharp political comment on contemporary society. This is a show for thrill-seekers. It is uncomfortable to watch and mesmeric, leaving audiences' emotions balancing on a knife edge. From a mendacious Spiritualist Lecturer to a despondent American porn star on the brink of her retirement, over 10 characters take the audience on a journey from emotional despair to helpless laughter.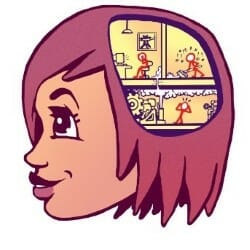 A fun, silly and sad show for anyone whose brain isn't always on their side. Sally's a happy person. She doesn't let little things get her down and almost never cries. But she's got an illness. It makes her feel like she isn't the person she wants to be… But she doesn't want anyone to know about it. Written by Jon Brittain (Margaret Thatcher Queen of Soho) with music by Matthew Floyd Jones (Frisky and Mannish), the show mixes storytelling, live music and sketch comedy.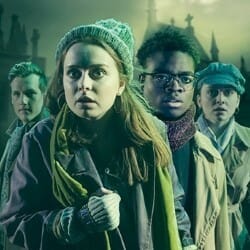 Doors creak and dust falls; the Curse of Cranholme Abbey has awoken once more. The 'superbly talented' (List) Young Pleasance presents a tale of intrigue and horror as the past and present collide. Distant screams echo from the east wing. The clock ticks. Time stands still. Peeling back the wallpaper, our heroes unravel the Abbey's terrible secrets as the curse threatens to destroy them all. With their trademark large-scale ensemble cast and 'production values way above anything in Edinburgh' (BroadwayBaby.com), Young Pleasance have created yet another piece to chill and thrill this summer!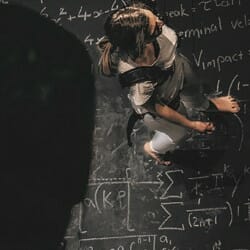 Inspired by the Yuval Harari's international bestseller, Sapiens: A Brief History of Humankind. In 1949, Dr Jacob Bronowski installs a secret, alarmed room in his house. Fifty years later, his grandson discovers his secrets, unearthing echoes from across six million years of human history, told from the perspective of a century in which every year is a revolutionary year. Following their sell-out production of Down and Out in Paris and London, multi award-winning New Diorama return to Pleasance with a World Premiere.
Girls Theatre (drama, new writing)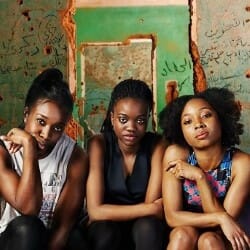 Three girls. Best friends forever. All the big issues: love, sex and religion… But when they're kidnapped from home, their world is turned upside down. The only hashtag that matters now is survival. A funny and fiercely passionate new play about enduring friendship, the power of imagination and the stories behind the headlines that quickly become yesterday's news. Written by the Alfred Fagon and joint George Devine Award-winner Theresa Ikoko. Shortlisted for Soho Theatre's Verity Bargate Award.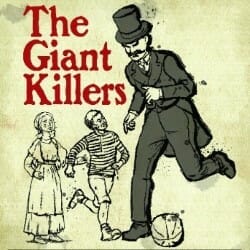 Football wasn't always a game for the masses. The first players to compete for the FA Cup were lords, knights and peers, the wealthy and the privileged. That was until a group of mill workers from Darwen in Lancashire joined with two talented Glaswegians to change the game forever. This new play tells the untold true story of the Darwen vs The Old Etonians FA Cup tie. An uplifting tale about a town that finds a voice and a team that change the beautiful game forever. They are The Giant killers!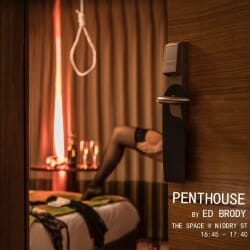 Ewan is one of the country's most intelligent young bankers. However he's just lost close to £1.4 billion of investors' money in an illegal trade he should not have made. His plan? Hire the penthouse of a hotel and indulge in a blowout before ending it all. Everything is turned upside down when he meets an escort called Eloise. Sex, drugs and depression blur Ewan's perception of reality. Penthouse offers an insight into the world of bankers and the pressure they face that can lead them to take their own lives.
Creatives Musicals and Opera (musical theatre, drama)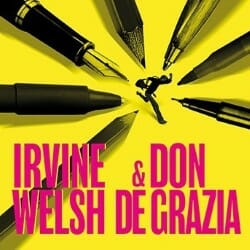 A dark, comic pop-opera by Irvine Welsh and Don De Grazia. Featuring the original Chicago cast and a wide-ranging original score by Laurence Mark Wythe. Paul Brenner's songwriting class is a cross-section of the Chicago music scene, with all its incestuous dysfunction, navel-gazing narcissism, bitterness and occasional brilliance. When former student, pop star Sean O'Neil, visits this group of musicians to judge a contest, the stakes are suddenly raised to new levels when both revenge and jealousies come to the fore.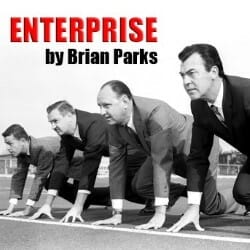 With their corporation on the brink of collapse, four panicking businessmen have one desperate night to save their futures. Emergency proposals, email hacking, animal sacrifice – will any of it work? A fast-paced, surreal comedy by Fringe First winner Brian Parks. 'There is no American writer more thoughtful – in an explosive and surreally comic kind of way' (Joyce McMillan, Scotsman).