Jake Brunger's Four Play, last seen at Theatre 503, opens Above The Stag's new season and newly refurbished studio space (and very nice it is too).  This production is directed by Matthew Iliffe, and was originally commissioned by The Old Vic as a 'state of the nation' gay play.  While Brunger could have looked at more modern themes, he has instead chosen to stick to a more traditional route in an astutely written exploration of the complexities of relationships.
Rafe and Pete have been together for seven and a half years, but neither has ever slept with another man.  With tensions in the relationship starting to bubble to the surface, a plan is hatched whereby they approach Michael, a mutual friend found on Facebook, and ask him nervously to sleep with each of them.  Just once, separately and the whole thing is to be kept a secret, even from Michael's partner, Andrew.
Michael and Andrew have an open relationship, albeit with several rules, which is in stark contrast to Rafe and Pete's monogamous relationship.  Of course, human nature plays a big role here, and the aftermath of the prearranged liaisons leaves both partnerships reeling.
Jake Brunger, better known as one half of Brunger and Cleary, responsible for musicals such as Adrian Mole, has penned an exquisitely written play.  Not one word is wasted, and from Rafe's racing opening monologue, the audience hangs on every word.  While Four Play takes a darker path as it progresses, it is in the main wickedly witty, whilst remaining insightful and intelligent.  The dinner party scene perhaps demonstrates the worth of Brunger's work; it begins gently, if a little awkwardly, before teasing us, finally reaching an explosive climax.
The characters are instantly relatable, in Carrie-Ann Stein's uber-modern white kitchen we observe the various interactions that could happen in any of our own homes, nothing about this quartet of gay men is anything less than believable, and that adds immeasurably to the charm of this play.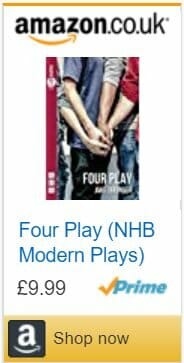 Declan Spaine gives an incredibly strong performance as Michael. This role is trickiest, as for the play to work we need to believe that he truly loves Andrew, despite his unfaithful behaviour.  Spaine achieves this with ease, through charismatic body language and soulful looks and glances.  Marc MacKinnon enjoys some of the funniest lines as Andrew, and employs dramatic pauses to the fullest effect. Keeran Blessie as Pete and Ashley Byam as Rafe work well together as the monogamous couple, Byam in particular pulling out the nuances of the character.
As the script contains very little in the way of stage direction, much of how we see it translated on to the stage is down to director Matthew Iliffe, and he doesn't disappoint, brining the excellent script and intense performances together in a joyous union.
Four Play goes all the way in delivering a gay play that is as much about the state of the human psyche as it is the state of the nation.  Jake Brunger's writing perfectly captures relationships, before turning them inside out, leaving the audience in awe until the last possible moment.
Four Play is at Above The Stag until 22nd February 2020.
Four Play Above The Stag c. PBGSTUDIOS
Summary
Reviewer
Review Date
Reviewed Item
Four Play at Above The Stag
Author Rating





Event
Four Play at Above The Stag
Starting on