I'm often happiest sitting in an off-West End theatre, whether it's above a pub, behind a bar, or one of the bigger purpose-built venues, you know you're seeing something special.  Often pulled together on a shoe-string budget, but bursting with passion and enthusiasm these productions  are the most important, because without them performers and creatives wouldn't have a chance to show what they can do, and audiences put off by West End ticket prices might never get to experience the joy of theatre.  With so many amazing productions in a thriving fringe scene, it hasn't been easy, but here we run down our top ten off-West End productions of 2018.
Top Ten West End Productions  Best Of Edinburgh Fringe 2018
End of The Pier at Park Theatre
&nbsp &nbsp &nbsp &nbsp
Les Dennis, Nitin Ganatra, Tala Gouveia and Blake Harrison starred new black comedy End Of The Pier by Danny Robbins. As a former national treasure begins to reflect on his fading career and embrace his dimming stardom, his life is upended by the surprise arrival of the nation's favourite young comedian.
Moormaid at The Arcola Theatre
Moe Bar-El and Ali Azhar joined renowned German actress Sarah Alles in Marion Bott's Moormaid – an explosive new play about two lost individuals' search for freedom. Set in Berlin, Moormaid is a thrilling chamber-play about self-destruction and rebirth that attempts to understand the fear currently gripping the European psyche, and the threats that may be posed by our own alienated youth.
Banana Crabtree Simon at The Drayton Arms Theatre
&nbsp &nbsp &nbsp &nbsp
Banana Crabtree Simon, written by David Hendon, explored one man's struggle with early onset dementia. The premiere production, which ran at London's Drayton Arms Theatre from 19 March to 14 April 2018, was performed by CJ de Mooi and directed by Daniel Phillips.
Read Banana Crabtree Simon Review
BOYS at The New Diorama Theatre
The PappyShow brought their first ever full-length production, the award-winning BOYS, to New Diorama Theatre.
In an era where toxic masculinity is the dominant narrative of the male experience, BOYS explores and celebrates diverse experiences of manhood centred on the stories of nine men of colour growing up in London; their ancestry, their present lives and their hopes for the future.
Love-Lies-Bleeding at Print Room at The Coronet
Josie Lawrence and Joe McGann led the cast in the first UK production of American literary icon Don DeLillo's Love-Lies-Bleeding, directed by Jack McNamara. Set in the sprawling south-western American desert, at the frontier between the man-made and the wilderness, artist Alex Macklin has abandoned his easel to make monumental land art. A second major stroke renders him speechless and motionless. He is kept alive only by feeding and hydration tubes and his desperate fourth wife. Then Alex's second wife and his only son, who has been online researching ways to end his father's life, arrive to decide his fate.
Read Love-Lies-Bleeding Review
The Rink at Southwark Playhouse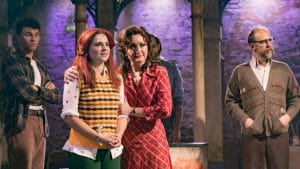 The first London revival in 20 years of The Rink by the Tony and Olivier Award-winning John Kander (music) and Fred Ebb (lyrics) and a book by Tony Award-winning Terence McNally played at the Southwark Playhouse.  Starring Caroline O'Connor and Gemma Sutton the production featured stunning choreography from Fabian Aloise.
Songs For Nobodies at Wilton's Music Hall
Wilton's Music Hall hosted the European première of Songs For Nobodies, a brand new play with songs featuring music from five iconic divas; Judy Garland, Pasty Cline, Billie Holiday, Edith Piaf and Maria Callas. Accompanied by live musicians, this funny and moving performance was written especially for Bernadette Robinson by Joanna Murray-Smith and directed by Simon Phillips.  It will transfer to The Ambassador's Theatre in 2019.
Read Songs For Nobodies Review    Buy Tickets
Pippin at Southwark Playhouse
Jonathan O'Boyle's acclaimed production of the multi-Tony Award-winning musical Pippin by Grammy and Academy Award recipient Stephen Schwartz transferred to Southwark Playhouse's Large space in spring 2018.  Produced by Katy Lipson of Aria Entertainment Pippin was the third production from Manchester's Hope Mill Theatre to transfer to London's Off-West End in under a year.
Plastic at The Old Red Lion
Following a highly successful run at Latitude Festival, the multi-award winning Poleroid Theatre brought BAFTA nominated playwright Kenneth Emson's Plastic to life at the Old Red Lion Theatre.
Directed by JMK 2017 award winner Josh Roche, this powerful new play explored how the insecurities of childhood can follow us into later life in this unflinchingly honest drama about time, memory and escape.
Eugenius! at The Other Palace
After a triumphant run at The Other Palace at the beginning of the year, rave audience responses and huge public demand – particularly on social media – the new British Musical Eugenius! returned to the theatre in September starring Rob Houchen and Laura Baldwin.
Written by Ben Adams and Chris Wilkins, Eugenius! tells the story of Eugene, a teenage boy whose nightly dreams of a distant world of heroes and villains may just be the ticket to him creating his very own comic book movie in Hollywood.