The Edinburgh Fringe Festival has long been a breeding ground for innovative and boundary-pushing theatrical performances. Each year, thousands of artists from around the globe flock to the Scottish capital to showcase their talent and captivate audiences with their creative visions. Here, we share 16 emerging theatre companies to see at Edinburgh Fringe 2023.
The 2023 Edinburgh Fringe Festival promises to be a thrilling platform for emerging theatre companies to showcase their talent and captivate audiences. This year's selection showcases a diverse range of styles and genres, from physical theatre and immersive experiences to devised works and interactive performances. These 16 companies have been carefully selected for their innovative storytelling, compelling performances, and artistic bravery.
The Edinburgh Fringe Festival has a history of propelling emerging talent into the spotlight, with notable companies such as Punchdrunk, Complicite, and Traverse Theatre Company having made their mark on the theatrical world after successful performances at the festival.
&nbsp &nbsp &nbsp &nbsp
As we approach the 2023 edition, the anticipation is palpable for the emerging theatre companies set to take the stage. With a reputation for fostering creativity and providing a platform for experimentation, the festival offers these companies a unique opportunity to connect with audiences and industry professionals alike.
It is within this vibrant atmosphere of artistic exchange that the 16 companies featured in this article will unleash their theatrical prowess, leaving an indelible impression on those fortunate enough to witness their performances.
SPIN­ – Gilded Balloon Patter Hoose
Performed on a spin bike, SPIN is a darkly comic takedown of a society obsessed with attaching morals to our bodies. Written and performed by Kate Sumpter (The Little Drummer Girl, BBC), this hilarious world premiere takes us on a journey of self-discovery. In a culture that can push us to an 'ideal' body type that isn't actually idea for most body types, SPIN explores the dark underbelly world that pressures many of us to strive for an unattainable and unhealthy 'ideal'.
BAMPOTS – Pleasance Dome
BAMPOTS unapologetically and powerfully explores what it means to be Scottish – through the unique medium of a ceilidh rave! Bampots. Noun. (Scotland, slang, derogatory): An idiot; an objectionable and foolish person. From Haud Yer Wheesht Theatre, expect loud music, plenty of swearing, and high-energy antics.
&nbsp &nbsp &nbsp &nbsp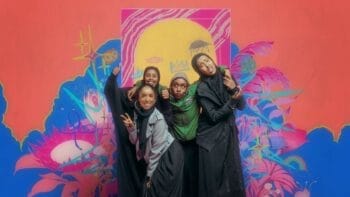 Dugsi Dayz – Underbelly Cowgate
In a funny and authentic exploration of friendship between Somali girls, this twist on The Breakfast Club sees four students stuck in detention, forming bonds through their shared heritage despite their different outlooks on life and their place in it.
Salma, Yasmin, Munira and Hani would normally never be seen with each other, but through stories of men who pretend they are something they aren't, nosy aunties and the legend of the girl who turned into a monkey, they begin to find common ground. As they sit out their detention in dugsi – an Islamic school that is seen as a Somali rite of passage – they slowly reveal how each of them came to be there. Dugsi Dayz is written, directed and produced by Somali women, and seeks to redress the lack of Muslim representation both on and off stage and screen.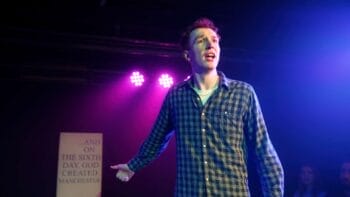 A Manchester Anthem – Pleasance Courtyard
Developed by an emerging team of creatives, A Manchester Anthem is a heartwarming and hilarious ode to music. Solo actor Tom Claxton delivers a high-energy performance as working-class Mancunian Tommy, bidding a final farewell to his hometown before moving down south to study at a prestigious university. It is produced by Lyle Productions and ramblemill in association with Pleasance and VAULT, written by Nick Dawkins and directed by Charlie Norburn.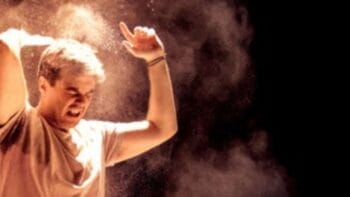 Breaking The Castle – Assembly Rooms
Struggling actor David can't get enough, of anything. Alcohol, drugs, women, gambling – whatever it takes to escape the bark of the black dog. Days and nights are lived through a thick haze of drugs, alcohol and Shakespeare's soliloquies. A comedy-drama embracing human complexity Breaking The Castle is a true story of addiction brought movingly to life in a hilarious, uplifting and poignant one-man show. Writer and performer Pete Cook draws from his own life experiences in this tour-de-force performance of a struggling actor battling debilitating mental health and descending into a world of addiction.
Inspired by true events in the life of the playwright, this visceral, fierce, funny and uplifting tale features a tour-de-force performance from creator Peter Cook as a man yearning for connection.
Chatham House Rules – Pleasance Courtyard
Host is going to work again. Front of house, mixologist, cloakroom guardian, finsta meme exec, human signpost, agent provocateur, toilet pointer, TikTok darling – it's giving range. Hospitality agency work is never as stunning as we want it to be but this shift is particularly deranged. High-profile, secret-cult, Brexit-revenge, dark-web, Birkin-handbag-prices, trial-of-David-Cameron level deranged. And to make matters worse, we're not allowed to talk about it. Ever. So come watch a play about it instead.
Inspired by writer and performer Louis Rembges's experience working Front of House for an exclusive tech networking event attended by the social elite including a former prime minister', Chatham House Rules is a furious and funny play that takes aim at the 1%, the current NHS crisis, and the merciless TikTok vacuum.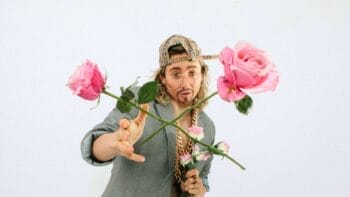 How to Flirt: The TED XXX Talk – Assembly Roxy
Actor, writer and Drag King Daisy Doris May brings her solo show How to Flirt: The TED XXX Talk to Edinburgh Fringe this summer. Produced by Häus of Dons, May's alter ego Guildfordian Steve Porters teaches the audience how to flirt in this hilarious one-person show, which examines gender binaries, toxic masculinity – and how to spoon.
How to Flirt with Steve Porters (Lock Up Ur Daughters). Wanna learn to be the ultimate ladies man? Wanna practice going to the next base? Wanna spoon? Don't panic. Steve's got you. Created and performed by actor, writer and award-winning drag king, Daisy Doris May, the winner of Man Up 2022 as alter ego HÄNS OFF.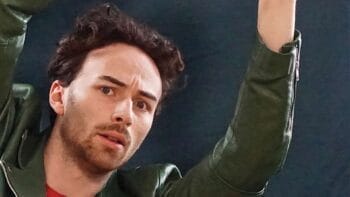 GROOVICLE – ZOO Southside
Dancer and Performer Elliot Minogue-Stone will follow in his comedic legend father Ian Stone's footsteps as he makes his debut at Edinburgh Fringe this summer with his striking, contemporary show Groovicle.
Audiences are invited to join Elliot's search of collective discovery about who we are, what we like, and how we co-exist in the Gen Z and contemporary show Groovicle. Throughout the show our expectations are unpacked through trials, tribulations and experiences, as audiences are lured in and out of the groove. Existing culture is remixed, exploring, on the one hand, groove, physicality and music, and on the other hand, language and humour.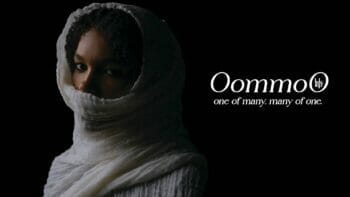 OommoO – Summerhall
OommoO depicts the real-life events of first-generation immigrant Lula Berhane as she navigates the duality of her Habesha (Eritrean/Ethiopian) heritage and her British identity. An acronym for One-of-many-many-of-One, OommoO looks at the effects of memory loss on a displaced community. It asks what happens when you've left everything behind for the promise of something 'better', and better isn't 'better' after all?
And when you have nothing but fading memories, what do you have? Interweaving language, custom and music with wearable tech MiMu gloves, OommoO is a poetic reflection of a visceral experience, unpacked through an Afro-futuristic East African lens.
Cowboys and Lesbians – Pleasance Dome
Cowboys and Lesbians is a fun, silly, queer coming-of-age romantic comedy from fresh voices for the Gen Z generation. The show subverts Hollywood's romcoms, examining the harmful tropes and tales that movies tell us and flipping them on their heads. Nina and Noa, repressed British teenagers and best friends, set out to write a parody of the classic American coming-of-age romcom in this hilarious and subversive… well, romcom.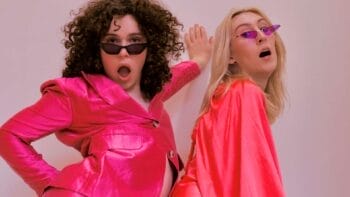 52 Monologues for Young Transsexuals­ – Pleasance Courtyard
52 Monologues for Young Transsexuals is a raucous, irreverent and campy hour of verbatim and cabaret theatre that delves into the realities of being a trans woman, exploring what it means to grow up attached to certain norms, and discovering oneself in all its messy, painful honesty. With outrageous lip-syncing, empowering – and surprising – audience participation, hilarious comedy routines and a moving monologue on motherhood, the show promises to shock, move and delight audiences in equal measure.
It Gets Worse – Assembly George Square Studios
It Gets Worse is a comedic show about the horrors of being in a relationship – especially with one's self. American artist and performer Sophia Cleary shepherds the audience through her darkest, most disturbing fantasies of revenge, love, birth and transcendence.
It Gets Worse is a raw, comedic exploration about the horrors of being in relationships, specifically with oneself. Inspired by her journey as a child actor, mall goth, birth doula, private investigator and waiter, Cleary tells the story of her realization that she is all that and more (gay). Musing upon her most formative relationships as a through line, she shepherds her audience through her darkest, most disturbing fantasies of revenge, love, birth and transcendence.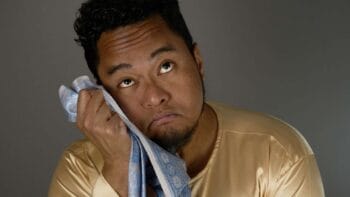 Siapa Yang Bawa Melayu Aku Pergi? – Summerhall
Siapa Yang Bawa Melayu Aku Pergi? (SYBMAP?) is Faizal's love letter to Singapore,the country of his birth. It addresses themes of colonisation, identity, indigenous displacement, and the loss of culture, heritage and language.
SYBMAP? is a lecture- performance that investigates Faizal's Muslim-Malay-Singaporean identity and his relationship with each noun, especially the latter two. As he teaches the audience about himself and the country that he still considers home, he explores what it truly means to be 'Singaporean' and 'Malay'. Nominated for Show of The Week at VAULT Festival 2023 and OFFFest'23.
Weathervanes – Summerhall
Weathervanes is an immersive-multimedia exhibit and ritual dance theatre experience – a re-thinking of the beautiful and what is holy… This mesmerising performance- installation by Jian Yi tunes into the collective psyche with audiences to create a dreaming state of mind; an architecture of queer futurity.
Produced by Journey to the East Productions in association with Summerhall/Eclipse and Tramway – it features an ensemble of dancers with a live musician, and multimedia/FX created by Cryptic artist Heather Lander. Keep It Fringe Award Winner.
Rapture – Pleasance Courtyard
A new play about identity, power and healing, written and directed by Sophie Leydon. A subversive, colourful portrait of queer life in contemporary East London, Rapture blends the impulses of spoken-word poetry with bold movement and fast-paced narrative action. This is the debut show from Pink Sky, a collective of LGBTQIA+ artists, staging gender non-conforming identity, the politics of polyamory and the intersection between physical and mental health.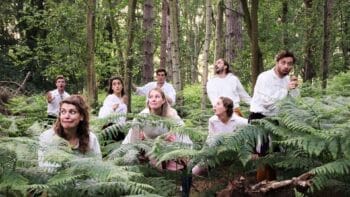 ShakeItUp: The Improvised Shakespeare Show – Gilded Balloon Teviot
William Shakespeare's plays contain the greatest love stories, tragedies and tales of greed and jealousy in literature. ShakeItUp: The Improvised Shakespeare Show takes all the most exciting and high-stakes elements of Shakespeare, and combines them with his most bonkers bits to create an all-new Shakespeare live on stage.