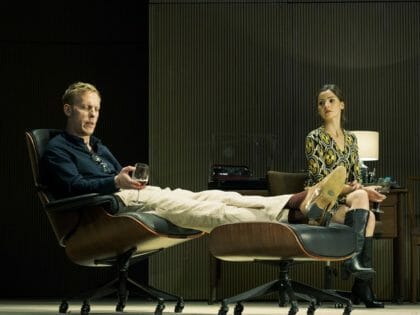 [fusion_builder_container hundred_percent="yes" overflow="visible"][fusion_builder_row][fusion_builder_column type="1_1″ layout="1_1″ background_position="left top" background_color="" border_size="" border_color="" border_style="solid" spacing="yes" background_image="" background_repeat="no-repeat" padding="" margin_top="0px" margin_bottom="0px" class="" id="" animation_type="" animation_speed="0.3″ animation_direction="left" hide_on_mobile="no" center_content="no" min_height="none" last="no" hover_type="none" link="" border_position="all"][fusion_separator style_type="none" hide_on_mobile="small-visibility,medium-visibility,large-visibility" class="" id="" sep_color="" top_margin="10px" bottom_margin="10px" border_size="" icon="" icon_circle="" icon_circle_color="" width="" alignment="center" /][fusion_text]
Theatre Royal Bath Productions, Cambridge Arts Theatre and Rose Theatre Kingston today release production images for Tom Stoppard's poignant classic The Real Thing, directed by Stephen Unwin. The production is currently playing at Cambridge Arts Theatre before touring to co-producing venues in Bath and Kingston, with national press night on Wednesday 20 September at Theatre Royal Bath. It will then visit Malvern, Edinburgh, Brighton and Guildford.
Laurence Fox will star as Henry in the production. He will be joined by Adam Jackson-Smith as Max, Rebecca Johnson as Charlotte, Santino Smith as Brodie, Flora Spencer-Longhurst as Annie, Venice Van Someren as Debbie and Kit Young as Billy.
Henry is the smartest and sharpest playwright of his generation. His wife, Charlotte, an actress has been appearing in a play by Henry about a couple whose marriage is on the verge of collapse. Max, her leading man, is also married to an actress, Annie. When Henry's affair with Annie threatens to destroy his own marriage, he realises life has started imitating art. But are they really in love? Is it the real thing?
[/fusion_text][fusion_separator style_type="none" top_margin="20″ bottom_margin="" sep_color="" border_size="" icon="" icon_circle="" icon_circle_color="" width="" alignment="center" class="" id="" /][fusion_images picture_size="fixed" hover_type="none" autoplay="no" columns="5″ column_spacing="13″ scroll_items="" show_nav="yes" mouse_scroll="no" border="no" lightbox="yes" hide_on_mobile="small-visibility,medium-visibility,large-visibility" class="" id=""][fusion_image image="http://theatreweekly.com//wp-content/uploads/2017/09/Laurence-Fox-Flora-Spencer-Longhurst-in-The-Real-Thing-CREDIT-Edmond-Terakopian.jpg" image_id="" link="" linktarget="_self" alt="" /][fusion_image image="http://theatreweekly.com//wp-content/uploads/2017/09/Flora-Spencer-Longhurst-Kit-Young-in-The-Real-Thing-CREDIT-Edmond-Terakopian.jpg" image_id="" link="" linktarget="_self" alt="" /][fusion_image image="http://theatreweekly.com//wp-content/uploads/2017/09/Adam-Jackson-Smith-Rebecca-Johnson-in-The-Real-Thing-CREDIT-Edmond-Terakopian.jpg" image_id="" link="" linktarget="_self" alt="" /][fusion_image image="http://theatreweekly.com//wp-content/uploads/2017/09/Adam-Jackson-Smith-Flora-Spencer-Longhurst-Rebecca-Johnson-in-The-Real-Thing-CREDIT-Edmond-Terakopian.jpg" image_id="" link="" linktarget="_self" alt="" /][fusion_image image="http://theatreweekly.com//wp-content/uploads/2017/09/Laurence-Fox-in-The-Real-Thing-CREDIT-Edmond-Terakopian-3.jpg" image_id="" link="" linktarget="_self" alt="" /][fusion_image image="http://theatreweekly.com//wp-content/uploads/2017/09/Laurence-Fox-in-The-Real-Thing-CREDIT-Edmond-Terakopian.jpg" image_id="" link="" linktarget="_self" alt="" /][fusion_image image="http://theatreweekly.com//wp-content/uploads/2017/09/Laurence-Fox-Flora-Spencer-Longhurst-in-The-Real-Thing-CREDIT-Edmond-Terakopian-3.jpg" image_id="" link="" linktarget="_self" alt="" /][/fusion_images][fusion_separator style_type="none" top_margin="20″ bottom_margin="" sep_color="" border_size="" icon="" icon_circle="" icon_circle_color="" width="" alignment="center" class="" id="" /][fusion_title margin_top="" margin_bottom="" hide_on_mobile="small-visibility,medium-visibility,large-visibility" class="" id="" size="3″ content_align="left" style_type="none" sep_color=""]
More from Theatre Weekly…
[/fusion_title][/fusion_builder_column][fusion_builder_column type="1_2″ layout="1_1″ background_position="left top" background_color="" border_size="" border_color="" border_style="solid" spacing="yes" background_image="" background_repeat="no-repeat" padding="" margin_top="0px" margin_bottom="0px" class="" id="" animation_type="" animation_speed="0.3″ animation_direction="left" hide_on_mobile="no" center_content="no" min_height="none" last="no" hover_type="none" link="" border_position="all"][fusion_widget_area name="avada-custom-sidebar-androidsidebar" background_color="" padding="" hide_on_mobile="small-visibility,medium-visibility,large-visibility" class="" id="" /][/fusion_builder_column][fusion_builder_column type="1_2″ layout="1_1″ background_position="left top" background_color="" border_size="" border_color="" border_style="solid" spacing="yes" background_image="" background_repeat="no-repeat" padding="" margin_top="0px" margin_bottom="0px" class="" id="" animation_type="" animation_speed="0.3″ animation_direction="left" hide_on_mobile="no" center_content="no" min_height="none" last="no" hover_type="none" link="" border_position="all"][fusion_widget_area name="avada-custom-sidebar-righthandnews" background_color="" padding="" hide_on_mobile="small-visibility,medium-visibility,large-visibility" class="" id="" /][/fusion_builder_column][/fusion_builder_row][/fusion_builder_container]