When Romeo and Juliet had its official Press Night on 25th May, we tweeted the cast with the traditional 'Break a Leg' and we kind of regret it now.  The run at the Garrick Theatre seems to have had a run of terrible bad luck, and now Freddie Fox has been drafted in to share the role of Romeo with Richard Madden.
It all started going wrong when Richard madden injured his ankle whilst out running, despite intensive physiotherapy he has been unable to keep up with the pace of eight shows a week, and fellow actor Tom Hanson was brought in to take over the role in the Kenneth Branagh production.
But the stage tragedy turned to real life tragedy when Tom Hanson also suffered a leg injury meaning he, also, could no longer perform the role.  Richard madden has been declared fit to return to the role but Doctors have advised against the eight show week.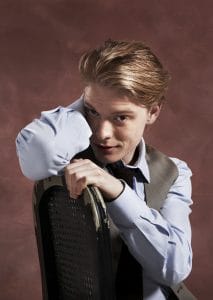 So Freddie Fox, the actor best known for his TV roles has been brought in to share the role.  Freddie Fox has just completed a run of A Midsummer Nights Dream at the Southwark Playhouse and even attended the Romeo and Juliet Press Night.  Little did he know, that night, that he would be drafted in to play the role with just 48 hours rehearsal time.
&nbsp &nbsp &nbsp &nbsp
That's resulted in a hair raising 2 days for Fox and the cast, including Lily James and Derek Jacobi, who have had to put in some serious rehearsal time to be performance ready.  Freddie Fox attended the Guildhall School of Music and Drama, graduating in 2010 so will have had a good grounding in the works of Shakespeare and definitely has the ability to carry it off.
We would, of course, usually say "Break a Leg" to an actor taking on a new role, however, in this instance it might be safer just to say "Good luck Freddie".