Amy Berryman is the writer of Walden, which is the first production in Sonia Friedman's RE:EMERGE Season at The Harold Pinter Theatre.
Walden will star Gemma Arterton, Fehinti Balogun and Lydia Wilson. The production will be directed by Ian Rickson and is at The Harold Pinter Theatre 22nd May to 12th June 2021.
Your play, Walden, will open Sonia Friedman's RE:Emerge Season, how would you describe this play?
Walden is a play set in the future where climate change has intensified and humanity is struggling with whether to save the planet or flee it. It centres on twin sisters who have grown up in the world of NASA, and as the play begins one sister has just returned from working on the moon for a year. She goes in to the woods to reunite with her sister who has been living off the grid with a man she's fallen in love with – someone who is very against space colonization and a member of the political movement Earth Advocates. It's about love and rivalry and the future of humanity.
What first inspired you to write Walden?
I started writing the play in 2016 and was thinking a lot about climate change, which at the time I didn't know much about, but I felt terrified of it, and thought a lot about the question "What will we do when it's too late?" – I thought there must be a point at which we won't be able to turn things around. So, I started to imagine this future world where scientists may recommend we look for somewhere else to go. I was also interested in writing about intense sibling love between two siblings who are very different. The play has grown and changed and become its own entity, but those were the beginnings.
What's different about Walden compared to your other writing work?
Walden feels deeply personal to me, even though it's a bit sci-fi and a huge world, set against political upheaval and climate crisis. I do write a lot about climate change, but this one feels particularly close to my heart, and it feels exposing to share it with the world, but I am a firm believer that vulnerability is strength! I think as a writer it's been interesting to watch it change over the years – my position within the politics of the world I created has completely changed since I began writing it, and sometimes I still don't know who is exactly right or wrong. I enjoy the complexity of that grey area.
How do you think the themes of Walden relate to the world we are living in now?
Beyond our current climate crisis, the world of Walden is one that's very polarized, similar in some ways to the one we are in now. The play also deals with isolation and longing to be together and be human, which has become more potent since the pandemic began.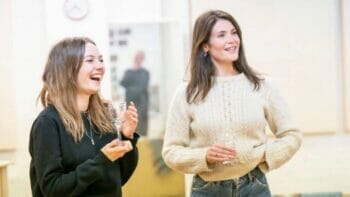 How did you react when you found out Walden would be opening such a prestigious season in London's West End?
To be honest, it took me a long time to fully grasp that it was really going to happen. Once it hit me, I did a lot of crying happy tears and haven't really stopped since. This is a huge break for me as a writer, but especially after such a challenging year for theatre, it really felt like a miracle. It's such a gift to get to be here and work with incredible artists on bringing the play to life.
What would you say to anyone thinking of booking tickets to see Walden?
I hope you will book and come experience live theatre again! I think it's going to be a visceral, cathartic experience to watch this play. I hope it will be healing after such a long absence from live theatre. These actors are extraordinary. You won't want to miss it!
Walden by Amy Berryman is at The Harold Pinter Theatre 22nd May to 12th June 2021. Tickets are on sale here.