Anyone training for a career in musical theatre will have the ambition of landing the lead role in a West End Musical and for some that dream will come true, eventually. Very few will have the distinction of securing a leading role fresh from graduating, but that's what happened to Ben Joyce, who is currently playing Frankie Valli in the hit musical Jersey Boys at The Trafalgar Theatre.
Originally from Swansea, Ben Joyce started amateur dramatics at age nine and discovered a passion for the theatre, but his love of music started even earlier, "I've always sung since I was really small," says Ben, "my grandparents tell me I was singing Elvis songs when I was just three years old."
Ben says he's a lover of all kinds of music, "yeah I still love Elvis, but I also love Queen and I was even obsessed with Busted at one point, I feel like I've been through the whole spectrum of pop and rock throughout my life."
&nbsp &nbsp &nbsp &nbsp
Ben's love of theatre had always existed outside of school, but when he turned sixteen, he decided he wanted to make a career out of it, "I didn't know much about whether you could get paid for it, whether I could actually do it as a job" laughs Ben, "obviously, I learned that you could, and there were paths to go down, luckily there was a college near me that did a performing arts course and so that's where I went and did a BTEC."
Two years later Ben started auditioning for drama schools in London, and was accepted in to Mountview, "I was so excited to get in to a school like Mountview, the three years I spent there doing my degree were amazing and I feel so lucky to have had that opportunity."
Shortly after graduating and with an agent lined up, Ben heard that producers were auditioning for Jersey Boys and picked up the phone, "I've always loved Jersey Boys, I'd been lucky enough to see it three times even before I moved to London to start training, and for me Frankie Valli is a dream role, I was desperate to be part of this show in any role."
When he found out he had landed an audition, Ben was a little surprised, "I never actually expected to be up for Frankie," Ben explains, "so I didn't really expect much to come of it, but I knew I could give it my best shot."
Ben had grown up with the music of The Four Seasons, "my grandparents played this kind of music around the house, I had heard 'Big Girls Don't Cry' playing on the record player in my grandfather's living room, so amazing music like that has always been a part of my life, and I think my family and music have always been a well-connected thing, and whenever I think of my family, music has a lot to do with it."
The audition process started at the height of the pandemic, "there were no in-person auditions happening so I had to do a self-tape where they ask you to do some material from the show, and I also did 'Silence is Golden' which isn't in the show, but is one of my favourite Frankie Valli songs, I think it's stunning."
&nbsp &nbsp &nbsp &nbsp
Recall after recall came and eventually Ben was able to audition in person, "this was the dance rounds and that was a lot of fun, because I love the style of the dance in this show, so I think it just came not so much naturally, but when you're enjoying performing it, I think it just goes into your body a lot better."
Ben says he really enjoyed the whole process, "I think as a drama student you expect auditions to be just so scary, my experience of it was that it was just really, really fun. Everyone was so lovely, I felt nurtured and comfortable, on the whole I loved the experience and I met so many great people."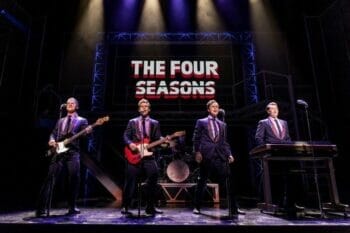 Perhaps less enjoyable was the wait to find out if he had secured the role, "there's lots of waiting and I tell you it was the longest four weeks of my life," laughs Ben, "I got a text from my agent on the 17th of May, (I remember that date!) and he asked to meet me, we were just sitting chatting and he turned around and said 'you're gonna be playing Frankie Valli in the West End', I was shocked it was like a whirlwind. I tell people when they ask how I felt, it was just lots of things hitting me at once and lots of tears as well. It was amazing."
"You see in films people dreaming of these amazing things to happen in their life, and I think for people that do musical theatre, it's always the dream of making it to the West End stage and getting a lead role, but I never dreamt of it happening so quickly for me."
Ben and the other three actors who make up The Four Seasons started rehearsals a little earlier than the rest of the cast, and firm friendships were quickly formed, "we just adore each other. We spend unnecessary amounts of time together, we are the best of pals for sure. We eat together, we have a tea or a coffee together in the dressing room before every show, we just get along like a house on fire and it's been like that since day one."
The friendship caused a few issues in rehearsals, "I love telling people this because it makes me laugh," says Ben with a cheeky grin, "there is a scene where Bob first gets introduced, and he sings a song on the piano and we all join in, it's a big moment because it's the first time we make that sound as The Four Seasons. The director came up to us and said 'so obviously these characters have just met each other for the first time, but you guys are just too much like best friends, you need to stop being best friends for this scene! You're not supposed to have met before.' That was a note I was happy to take."
Anyone who has seen Jersey Boys will know that Frankie is a vocally demanding role, "I just make sure I east well and stay hydrated, and I think be sensible, and be careful what I do in the day vocally, so as not to strain it too much."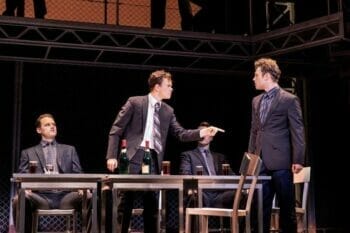 Ben gets to spend his evenings working in the beautifully refurbished Trafalgar Theatre, "it never gets old looking out into the beautiful art deco auditorium. It's stunning and I love it, and it's an intimate theatre as well, so I think it works for Jersey Boys, especially with the scenes towards the beginning of the show, where they're playing in old smoky jazz bars."
Another thing Ben loves are the costumes, "they are amazing, Jersey Boys is so iconic for the blazers and the suits; we've got the iconic Red Jackets, then we're changing into the nice navy jackets with diamanté lapels. But we go through several decades so I get to wear a whole range of styles…some of the costume changes, though, are crazy, I've got a six second one at one point!"
Ben is truly living his dream, and his enthusiasm for the show and his cast mates is infectious, "obviously this being my first job, there are lots of little firsts along the way that I'm kind of ticking off when I do them. West End Live is definitely one of those things, and we performed on This Morning, and that was the most mind-blowing thing I've ever done."
"So all these amazing things are happening, and when you're in the job and you're doing it every day sometimes there can be moments where you forget that you're actually doing what you've always dreamed of doing, but each of these little firsts keeps reminding me, and I couldn't be happier at the way things have turned out."
Ben Joyce plays Frankie Valli in Jersey Boys at The Trafalgar Theatre.