David Hunter, most recently seen at The Adelphi Theatre playing Dr. Pomatter in Waitress, will be one of the first musical theatre performers to return to the West End as Lambert Jackson Productions bring Jason Robert Brown's Songs For A New World to The London Palladium for two performances on 11 October.
Lambert Jackson Productions staged a virtual performance of Songs For a New World during lockdown, in association with The Other Palace, as part of a commitment to provide paid work for performers during the pandemic.
Now, David Hunter will be joined by Rachel John (Hamilton), Cedric Neal (Motown) and Rachel Tucker (Come From Away) in a live production directed by Séimí Campbell and featuring Shem Omari James.
&nbsp &nbsp &nbsp &nbsp
You're coming to The London Palladium to perform in Jason Robert Brown's Songs For A New World, what can you tell us about it?
I can tell you there's a lot of complex harmonies in it and my head is FULL! Aside from that, I can tell you the piece is beautiful, the cast is spectacular and I can't wait to share it all with a real live audience. Especially the complex harmonies!
What inspires you most about Jason Robert Brown's songs?
It's the realness for me. I remember going to Drama School and thinking Musical Theatre had to sound like Cabaret or The Lion King (both excellent shows by the way!) and then a classmate played me The Last Five Years. I was floored. I'd never heard that kind of reality in Musical Theatre before. The songs felt like real conversations in a language I understood and connected to. I knew immediately the kind of work I wanted to do.
Why do you think this song cycle remains so relevant today?
It's just so relatable. Whoever you are, whatever stage of life you find yourself in, these songs will speak to you. They are so full of human nature, our feelings, our flaws. You will undoubtedly spot yourself somewhere along the way.
"we adjust and adapt and there's still so much to enjoy and embrace. Just not each other, obviously!"
How does it feel to be one of the very first performers back on a West End stage following lockdown?
I feel incredibly fortunate. We all know opportunities to perform are rare at the moment, so to get this chance is wonderful.
Tell us about your fellow cast mates, have you worked with any of them before and what are you looking forward to most about working with them now?
Well, it's a dream lineup! I have worked with Cedric before on a concert of The Christmas Carol and simply put, he has the greatest voice I've ever heard! He can do anything – and I hate him for that! I haven't worked with either of our brilliant Rachels, but I've watched and admired them both in Hamilton and Come From Away. They are astonishing. It's a real privilege to be a part of this incredible cast and I can't wait to sing with them all.
&nbsp &nbsp &nbsp &nbsp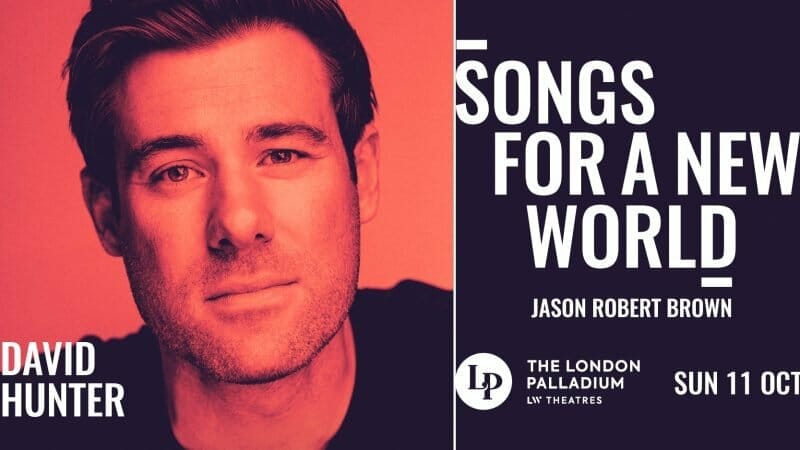 You worked with Lambert Jackson during Lockdown with Leave a Light On, what has their commitment to the arts meant to performers like yourself at this difficult time?
Everything. I don't believe they've received enough credit for the work they've done during lockdown. Without their front-footed, forward-thinking attitude, I'd be in a very different position today. And I'm not the only one. They are as kind as they are innovative and they should be celebrated for it all. Honestly, they've done so much for so many during lockdown and I can't thank them enough. Do they deserve knighthoods? Yes.
It'll be a different kind of theatre experience with a socially distanced audience, what will be different about rehearsals and how are the cast going to keep safe?
We'll be following the regulations and being as safe as humanly possible. It will feel a little alien of course, but we adjust and adapt and there's still so much to enjoy and embrace. Just not each other, obviously!
What would you say to anyone thinking of coming to see Songs For A New World?
Good thought! It's going to be a special, special day at The Palladium. Come and rediscover live theatre with us in this beautiful building, with this glorious show and these incredibly complex harmonies…! It promises to be a magical day. I'll see you there.
David Hunter can be seen in Songs For A New World at The London Palladium on 11th October.  Tickets are on sale here.