Emily Redpath will soon be seen playing Juliet, opposite Olivier Award winner Sam Tutty, in a new filmed version of Romeo & Juliet that has been produced specifically to adapt to the circumstances we find ourselves in.  Recreating the greatest love story ever told, in a time when we all need to keep two metres apart, certainly proved challenging, but for Emily, it's an experience she says she wouldn't have missed.
It was studying acting at Queen Mary University that Emily Redpath discovered the joy of performance, "we really focused on performance art," Emily explains, "so it was all about getting on stage and working out how to embarrass yourself to the fullest, and I loved that."
After taking a show to Edinburgh Fringe, Emily knew that this was the career for her, "I loved it in Edinburgh, it's such an unbelievable experience and I knew I wanted to perform, but drama school wasn't necessarily the right route for me."
Emily created a showreel and eventually found an agent that she loved, but auditions were slow to come, "during that first lockdown everything just kind of came to a halt, it was a really difficult time, but things really picked up in the second half of the year."
Parts would come in independent film Help and BBC's Casualty, but it would be an audition for Romeo & Juliet that gave Emily the theatrical buzz she had been craving.  "At first they didn't tell me what part I was auditioning for," laughs Emily, "when I found out it was Juliet, I thought wow that's cool, but I don't really think I knew what I had let myself in for!"
With strict guidelines in place, filming a new version of Romeo & Juliet had to be innovative, and find creative ways to tell the story. "I've never met, or even spoken to half the cast!" says Emily, "we all filmed our scenes separately and then they've been put together afterwards using innovative technology."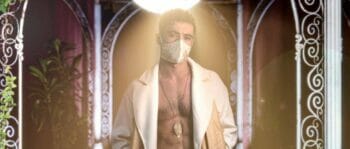 Emily was amazed at the work that went into making sure everything would look right on screen, "in a scene I have with Jonny Labey, we had to make sure our eye lines matched, because I'm a bit shorter than Jonny, so I found myself delivering my lines to a blue dot on the ceiling."
It was definitely a different way of working admits Emily, "we didn't have the comfort of feeding off other actors, like you normally would on stage, but in some ways, it took away a lot of the pressure, with so many lines to learn and knowing you would be on your own, there was no time to second guess yourself."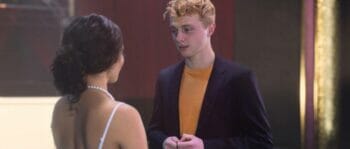 There are a small number of scenes which Emily and Sam worked on together, which meant stringent precautions had to be put in place, including Covid tests and Perspex screens. "Sam joined me on my penultimate day of filming, and I had been on my own up until that point, he came in with this wonderful energy that really motivated me to keep going.  He's such a great person to work with and so much fun too."
Director, Nick Evans was with all the actors during the shoot, "he worked really hard and tirelessly to get the best out of us," says Emily, "he was really 'hands-on' but obviously while still keeping two metres distance and following all the rules. I guess he was learning too, having to work in a completely different way but he just did an amazing job."
Emily was surprised by how theatrical this adaptation is "I assumed it would be more like a film, but we really have approached it like a piece of theatre, we filmed it in a small studio, but when you watch it you would never know that, it feels so spacious, I think it looks amazing."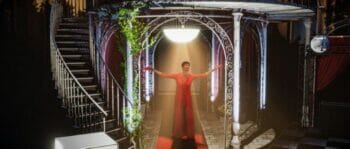 The story has been abridged in this version, as Emily explains, "I think it makes it more accessible and definitely helps up the pace of it.  In this version for example, Juliet only has a Mum, so that brings more to the Lady Capulet character, she takes some of Lord Capulet's speeches and that is wonderful and exciting, I think in general there are characters which just have more of a presence and more of an interesting dynamic in this version.
Looking at the way theatre is being made currently, Emily says, "I think, for now, when we've no idea when theatres can re-open, this is a great way of still creating, and perhaps in the future even when theatres have re-opened, there will still be a place for this kind of production because it means more people can get involved."
"It was so much fun, sometimes it felt like I had been working on the project for a year because of all the work we put in, but looking back it feels like it was over in a day, it just flew in because it was so enjoyable to work on, and a terrific experience, I can't wait for people to see it."
Romeo & Juliet starring Emily Redpath and Juliet is available to stream 13th – 27th February 2021.  Tickets are on sale here.