Glenn Adamson leads the cast as Strat in the UK Tour of Bat Out of Hell – The Musical.  Featuring the legendary hits of Jim Steinman and Meat Loaf, the production has already had two successful runs in London, firstly at The Coliseum before transferring to the Dominion.
Bat Out of Hell was about to embark on a US Tour at the beginning of last year, but that was no longer possible as the global pandemic took hold. "I got cast in this in February 2020 just before the pandemic," explains Glenn, "we started rehearsals at the beginning of March for the US tour, then obviously Covid hit, I was a day away from dress rehearsal when everything shut down."
Glenn struggled to believe what was happening, "It was devastating, I was in total denial the whole time," he says, "everyone around us kept saying 'everything's going to close' but I just couldn't believe it, because I wanted to do the job so much."
Glenn had seen Bat Out of Hell when it was in London, "in fact I saw it three times," he laughs "I absolutely loved it, and people kept saying to me 'I can see you in that show', so when I found out the tour was happening, I was on the phone to my agent straight away!"
Having such a strong desire to play Strat made the last eighteen months even harder for Glenn, "It was tough not being able to take on the role I so desperately wanted," he admits, "but now that theatres are opening again, it's amazing to be back and I'm so happy to be playing Strat, it was sweet before, but now after the last 18 months, it's even sweeter."
The musical has already opened in Manchester and will shortly begin touring around the UK, "the audiences are so up for it which is amazing," says Glenn, "I think everyone is just so happy to be out the house, so they're really going for it, it's such a buzz which I love."
Having recently played Theo in the tour of American Idiot, Glenn says "I think rock musicals are my thing, I went to LIPA on the acting degree and so didn't really train in the traditional musical theatre route, but then side by side with the acting I'd always been in a band or done gigs, so the two things seem symbiotic,  and have come together over the last couple of years since I graduated."
"Now it seems like I've fallen into rock musicals, which I'm delighted about because this is my vibe, and definitely what I want to keep doing, I don't think you'll see me in tap shoes anytime soon!"
Bat Out of Hell is based in a post-apocalyptic world which has been ravaged by a global pandemic, "when it first played in London, I guess this seemed really farfetched," says Glenn, "but after the last year and half, now it doesn't seem quite so unbelievable."
But this musical is based loosely around the concept of Peter Pan, so the only symptom is people stop ageing, "the virus in our world causes people not to age after they caught it and my character, Strat, has been eighteen for an indefinite amount of time."
Glenn loves his character, "he's very poetic and a hopeless romantic, a lost soul that has never met anyone who understands him. He sees the world in a different way and has never managed to find anyone else who sees it in the same way he does."
"After years of searching he meets Raven, and she does understand him. There's a constant Jim Steinman quote where he says 'On a hot summer night would you offer your throat to the wolf with the red roses' the idea is that Strat has always used that as a test line to see if the other person understands him.  Raven does respond to that, and he realises he's finally found the right person for him."
The relationship between Strat and Raven isn't a traditional love story says Glenn, "this isn't where we just see some sort of submissive female and a man who makes all the decisions. Raven has all the power in the relationship and Strat is the submissive one, and I love that. I think these are the stories we need to be showing to girls who are growing up now, not traditional stories that are anti-feminist, this is a feminist story."
Martha Kirby plays Raven "I love Martha, we get on really well. I think I knew from the auditions because they asked me and Martha to come in and do 'For Crying Out Loud' together, but to improvise it and just wing it, I knew from then that we had chemistry."
Martha and Glenn are both new to the cast, but Sharon Sexton and Rob Fowler from the original cast have been on hand to lend support, "Sharon and Rob are amazing, the four of us spend a lot of time together. I think it's nice for them to have a new fresh energy that's bringing something different to it, but for us it's nice to have people who know what they're doing. They've given us a lot of love and support and helped prepare us for what to expect."
Something Glenn perhaps didn't expect was how physically demanding the show would be, "the eighteen months off has actually been a blessing in some ways, I realised I needed to do a lot of work to get my stamina up, so I spent lockdown doing lots of running and workouts."
"I have to get myself really hyped up in my dressing room before the show because it's so high energy. It's like being an athlete – jumping and rolling about while trying to sing, that takes a lot out of us. Your body really takes a hit, at the end of the day I need a long bath, and I'm covered in bruises from head to toe, the set is like a giant playground and you feel like a child running around it."
That set is one of the most spectacular parts of the musical, "of course, it has to fit into every venue that we go to, but still I've never seen a touring set like this, I did not expect the grandeur. It feels ginormous for every theatre that it's in."
Another key feature of the staging is the live camera work that's projected on to screens, "we've got even more camera work and even bigger screens now," laughs Glenn, "you do feel pressure knowing that the camera is in your face, but the actor in me loves that, I find it really exciting, and for the audience you feel really connected to the actor, it's really clever how they do it, it allows everyone, no matter where you sit, to have an experience of the front row."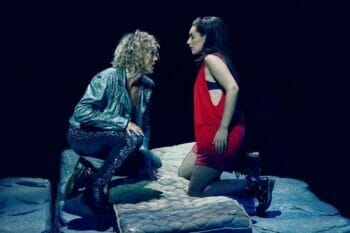 No matter how impressive the staging is, it's the music that will always draw fans to Bat Out of Hell – The Musical, "I was a real fan of the Steinman stuff, some of what's in the show, and some of the other stuff I thought was amazing.  This music is what I grew up on, my dad played Meat Loaf tracks and I would listen to them all the time, so there were certain songs I didn't even need to learn before I came in to the show, I already knew every word."
"When Jim wrote a lot of this, he always intended for it to be a musical, I hadn't realised that, but now listening to it knowing that, of course these were always intended to tell a story, the songs are so theatrical!"
Glenn is particularly looking forward to touring, "I love travelling to all the different venues and seeing how they react to it, Scotland and Sheffield really love a rock show, so I'm looking forward to them going crazy for it, but I know every venue will love it. Plus, I've not seen anywhere but London for the last 18 months so personally I'm looking forward to getting to see other places."
Glenn says that for Bat Out of Hell – The Musical there really is no time era that it fits into, "a lot of people say it brings back the seventies or eighties for them, a lot of them say it makes them feel eighteen again. I think if you're looking for a real party atmosphere after everything we've just been through, then everything this show has to offer means you'll have a really great time."
Bat Out of Hell – The Musical, starring Glenn Adamson as Strat is touring the UK, and is currently booking until 5th November 2022.  Tour dates and ticket information can be found here.