Greg Esplin is the founder of In Your Face Theatre and is currently playing 'Tommy' in Trainspotting, the show has been a runaway success and returns to London to play a season at The Vaults.  We caught up with Greg to find out how he feels about the hit show.
What got you in to performing?
I'm not sure I can pinpoint exactly what it was but I knew it was something I couldn't get out my head every time I thought about what I would like to do.   I remember when I was 11 or 12 watching the 'special features' on the first Lord of The Ring DVD.  There I was watching this huge group of actors living and working in a beautiful country and having the time of their life.  I think it was maybe at that point when I realised that life is too short not to be doing what you love and I'd much rather fail at something I love than fail at a job I have no passion for. At the time I was at school Drama wasn't something boys did.  So when it came to subject selection in school I think I picked Drama and dropped it 3 times in one week before I finally stuck with it.  I was so worried what people would think but eventually I realised its my life and you have to do what you want to. I wouldn't be doing this interview today if I hadn't changed my mind a fourth time.  I think as much as I love performing I love –equally as much – the amazing people I have met through performing.  To strip yourself back and be vulnerable on stage with like-minded people who support you and want you to do well is an amazing feeling.
&nbsp &nbsp &nbsp &nbsp
Can you remember the first time you watched Trainspotting The film or read the book?
Trainspotting came out when I was four in 1996.  I think I was about 14/15 when my older brother Ben showed me it, man I was blown away.  The soundtrack was in my head for days after it!  I ended up reading the book a couple of weeks after.  The word 'cult' gets thrown around a bit too easy but this really is a cult movie that still resonates with people today.
How is the stage version different?
The stage version is definitely closer to the book than the film.  We felt it was so important not to just try and put the movie on stage, I think that's too easy to do.   We spoke to Irvine after the show in Edinburgh and he said – "There's the book, the film and now there is this." Which was the biggest compliment he could have given us.  It's important that we stay true to the original text and then grow from there and I think that's what we have done.
Do you see anything of yourself in Tommy?
I think so. I mean he's a nice guy who really cares about his friends and the loved ones in his life.  He has a moral compass which you see a lot more of in the play than perhaps in the movie.  He knows right from wrong.  He just gets a bit mislead which becomes fatal for him you know?  I think Tommy is a character we can all perhaps see bits of ourselves in.  He's the good guy, you want him to do well.
&nbsp &nbsp &nbsp &nbsp
The show has been a huge success in its native Edinburgh, but also in other parts of the UK, how have audiences outside of Edinburgh reacted to the show?
To be honest, it's been overwhelming.  It's gone down even better than we expected when we went on tour. You know, I am very much aware that keeping such thick Edinburgh/Leith accents when on tour was a risk but I think it is essential.  We've been blown away by critics and audience reviews outside of Scotland and no one has ever mentioned the accents as a hurdle to enjoying the performance.  The themes and issues in the show are so relevant and real that it doesn't seem to loose anything taking it out of Scotland.
It's also quite graphic in its portrayal of drug use and the audience are right in the middle of it, what's the worst reaction an audience member has had?
I think now we have had at least over 50 audience members faint due to the graphic drug use.  We have never ever had to stop a show because of this though which is credit to fantastic front of house teams working in unison with the cast.  The show being immersive allows very easily for us to work round such hurdles.  I'm not saying it's a compliment people fainting but its certainly shows that we are staying true to the story and not trying to dress the topic up to make it more bearable for audiences.
In Edinburgh you were doing three shows a day, how do you and the cast keep up the energy levels?
I think we ask ourselves that every day before the show starts!  I personally believe it boils down to the love for the show we all have.  Everyone is passionate about Trainspotting and Irvine Welsh's writing, we love performing it.  Seeing audience's faces as they walk into an underground rave and take the journey with us is pretty special, it really keeps you going.  Obviously the basics as well, looking after your body, voice, diet etc.  I've really learned how important it is to take care of your self on tour.  An early night after three shows is not to be underestimated!
How have you found co-directing the show and playing a lead role at the same time?  How do you separate the two jobs?
Working with Adam is a pleasure (Adam Spreadbury-Maher co-directs the production with Greg); we really bring different things to the table.  His pedigree speaks for itself.  I imagine playing a lead and directing could have been a lot more difficult but the cast are a dream to work along side.  It's difficult to fully separate the two jobs but that's why co-directing works very well in this instance, like two sets of eyes coming from completely different angles.  Also a lot of credit goes the cast, I've always made sure there is room for discussion and people's ideas can be voiced and heard.  It really has been the perfect combination.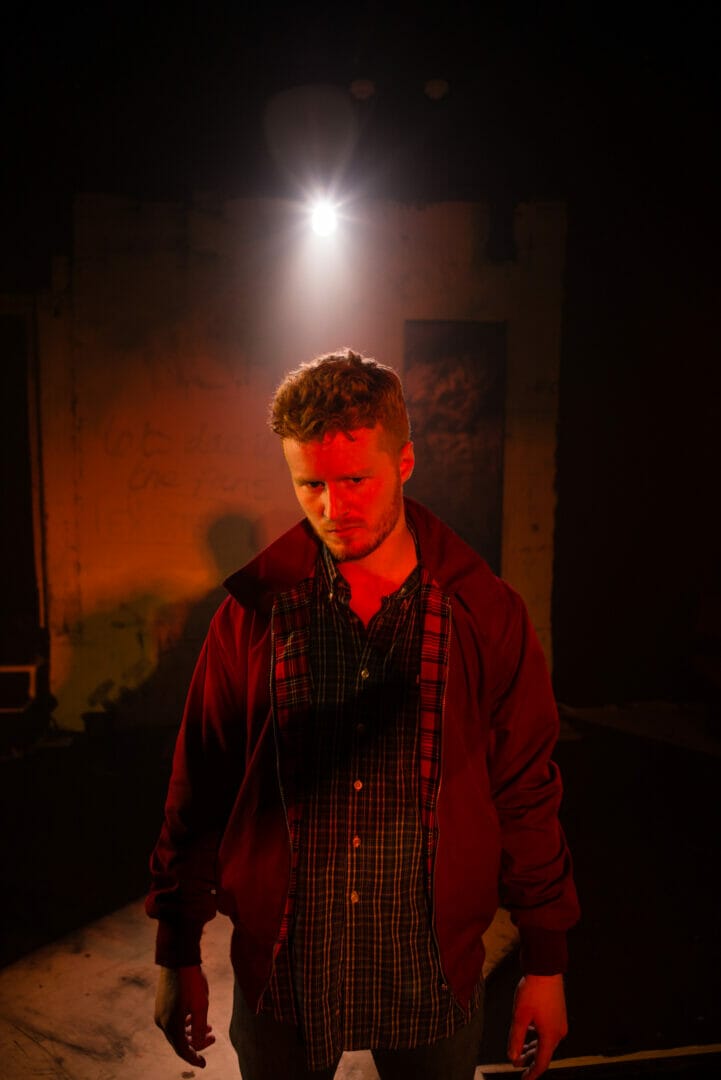 Irvine Welsh said you've breathed new life in to an old dog, how did that make you feel?
Ecstatic, to be honest.  His support has been amazing and constant really from the word go.  We never expected him to come along to an unfunded theatre company's small production of Trainspotting – two years ago – once, let alone twice! He came on the last night of this years festival and took the whole cast out for a meal, a true gentleman, what more could we ask for?
You're performing in London over the festive period, why should people see Trainspotting instead of something more traditional for the season
I guess something more traditional has more chance of coming around again.   This really is a unique experience with a pretty profound message I think.  I mean, why not do both!  I'm well aware some people never attend theatre or perhaps think it's 'not for them'.  If you do feel like that, please come to Trainspotting, let us show you theatre has no limits except imagination.
If you could play any role in the Trainspotting movie sequel what would it be?
I've just finished reading 'Porno' (T2) for the second time, it's amazing.  You know a book is good when you're laughing out loud.  I'd love to play Sickboy in T2 I think.  He's a real anti-hero bad guy in the book and has some great story lines.  All though 'Juice Terry' is a fantastic saucy character!
Trainspotting is playing at The Vaults from 3rd November 2016 – 15th January 2017