In London's West End, where spells and wonders materialise, Harry Acklowe takes centre stage as Scorpius Malfoy in the mesmerising production of Harry Potter and the Cursed Child. In a recent interview, Harry shared his journey from a theatre-loving kid in Plymouth to donning a wizard's robe in one of the most enchanting productions of our time.
Harry's love affair with the theatre began at an early age. "I was part of a fantastic theatre group when I was quite young," he reminisces. Reflecting on those formative years, he credits a passionate mentor for igniting the flames of his love for the stage. "She had so much passion, and it was difficult not to then feel enthused by that," he says.
As a graduate of Emil Dale Academy's esteemed musical theatre program, Harry's path to the West End wasn't without its challenges. The opportunity to audition for Harry Potter and the Cursed Child arose during his agent showcase rehearsals, adding an extra layer of excitement to an already pivotal moment in his career. "The audition came through for Harry Potter, which was my dream job," he exclaims. The audition process turned into a surreal whirlwind, with callbacks and surprises that kept him on the edge of his seat. "I didn't even know that I was in the running for Scorpius, I originally read for Albus, and then one day they asked me to try Scorpius," he reveals.
&nbsp &nbsp &nbsp &nbsp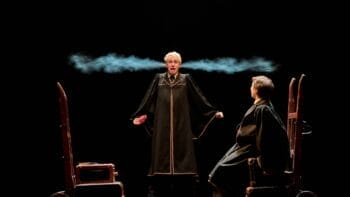 Being a Harry Potter fan from a young age, the prospect of joining the magical universe was nothing short of a dream come true for Harry. "It's a story of an outcast finding his place in the world," he says, emphasizing the relatability of the characters and their journey. "I think a lot of people find solace in that," he adds, recognising the universal appeal of narratives that explore the theme of self-discovery.
The moment Harry received the call confirming his role as Scorpius, he found himself at his dining table, eating breakfast. "I can stop being a waiter," was his first thought, reflecting on the challenges of balancing work and auditions. Having to keep the secret of his casting for several months proved to be challenging, especially when colleagues playfully called him "Harry Potter" at the restaurant, unaware of the magical secret he harboured.
Playing Scorpius comes with its own set of challenges, particularly in London's two-part production. Harry emphasises the importance of sleep, water, and good food for maintaining the energy required for the demanding role. "It's a four act play and it's quite a vocally demanding show for Scorpius," he explains, shedding light on the physical and mental preparation that goes into delivering a captivating performance night after night.
Behind the scenes, Harry shares a special bond with his co-star Ellis Rae, who plays Albus. The pair had gone through the audition process together and their chemistry now extends beyond the stage, with shared routines and lots of laughter. "We're already like a little old married couple backstage," Harry chuckles.
Reflecting on the magic of the show, Harry expresses amazement both as a performer and an audience member. "There are so many moments that defy all logic, there are some that I still don't know how they are done…it has to be magic!" he says. The intricate effects are a result of a dedicated team, including Chris Fisher, the original effects designer, and the on-site production team. Harry's awe and appreciation for the behind-the-scenes magic underscore the collaborative effort that brings the enchanting world of Harry Potter to life.
As for wielding a wand on stage, Harry admits to spending considerable time perfecting the specific wrist movements and flourishes required for the spells. "Every spell has its own wrist movement, I spent many days practicing in the mirror," he laughs, revealing that rehearsals often felt like being at Hogwarts.
&nbsp &nbsp &nbsp &nbsp
For those contemplating a journey to witness the magic of Harry Potter and the Cursed Child, Harry says, "at the end of the day, there are amazing effects, and amazing things that will blow your mind. But within that is a very, very human story of friendship, and of growing up," he says.
Harry's journey from a theatre-loving kid to a wizard on the West End stage is a testament to the magic that happens when passion, talent, and opportunity converge. As audiences continue to be spellbound by the wonders of Harry Potter and the Cursed Child, Harry Acklowe knows he's doing his dream job.
Harry Acklowe is currently eligible to be nominated for Best Professional Debut in the 24th Annual WhatsOnStage Awards, nominations can be made up until 23rd November here.