Rob Houchen and Celinde Schoenmaker will be reunited on stage in Marry Me A Little at The Barn Theatre in Cirencester.
When our theatres were forced to close earlier this year, The Barn Theatre in Cirencester were one of a handful that rose to the challenge, providing plenty of innovation in the online space.  When the Government gave the green light for performances to resume again (albeit with restrictions), the Barn were, again, quick off the mark with an outdoor festival, followed swiftly by an indoor recovery season.
The next production to open in that season will be Stephen Sondheim's one act musical revue Marry Me A Little starring Rob Houchen and Celinde Schoenmaker, and directed by Kirk Jameson.  It's an appropriate choice for the strange times we're living in, given that it features two characters who never actually meet.  Celinde explains, "this show is very important at the moment, it's about two people and their singular experiences in their apartments in New York, but it's also about being alone, and being alone has been a big thing in our lives this year."
Marry Me a Little is a dream come true for Sondheim fans, it's comprised mainly of songs that were cut from the composer's other shows, including Follies, Company and A Little Night Music.  It doesn't necessarily need to have a story, but Rob and Celinde have worked hard to link the songs together.
"The challenge in this piece is also the advantage," says Rob, "we have all these songs that are disconnected and it's our job to piece them together, and make something that people can follow and relate to. Sondheim has given us so much material and depth in these songs, and they're great individually, but we are enjoying the challenge of making them in to a show."
Celinde adds "It's not necessarily about an intricate storyline, we want to leave some stuff to the imagination, it's more about the connections between the songs.  We've made our structure around a break-up, so we've talked a lot about relationships and found some stuff we think really works."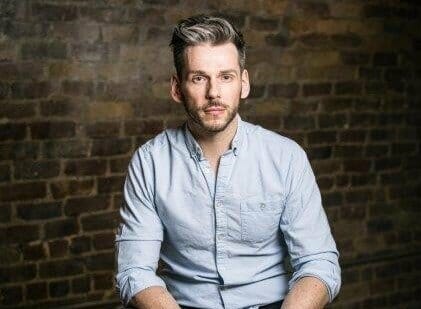 "It's short, sweet and intimate," says Rob, "those are all the things we need right now, it's one piano and our two voices, I'm really excited for people to see it, and think it will be a wonderful experience for people to be back seeing live musical theatre again."
Rob and Celinde first met in the West End cast of Les Misérables, and have been best friends ever since, working together again just last year in Los Angeles, "that feels like a lifetime ago" says Rob, "when we were allowed to travel and have fun."  But those shared experiences have come in useful as the pair take to the stage again, "Rob and I have such a long past that it wasn't difficult to create memories for our characters, we already had real memories to choose from" says Celinde.
With so many wonderful Sondheim numbers in this revue, the pair find it difficult to pick their favourites, Rob settles on Happily Ever After a song that was cut from the original production of Company.  Celinde reveals that their close friendship means that it's their duets which she enjoys the most, "we know each other's voices so well that we can really soar on the music and let the story tell itself."
Both Rob and Celinde are acutely aware of the situation the industry finds itself in, "we know how lucky we are to be working and doing what we love," says Rob, "what The Barn is doing is giving people jobs, providing work, and that's not something we necessarily expected because of how brutally the virus has affected the industry."
"it doesn't feel like we're doing this show for us, it feels like we're doing this for the whole industry"
Celinde reflects on recent comments by the Chancellor, "it's tough on the industry, but it's really crushing for the people who have worked so hard and for so long to carve out a viable career in the arts."
"That makes this show all the more important," she adds, "it doesn't feel like we're doing this show for us, it feels like we're doing this for the whole industry, to show how important it is, and to prove that live theatre can still happen."
Marry Me a Little starring Rob Houchen and Celinde Schoenmaker is at The Barn Theatre in Cirencester 16th October to 8th November 2020, tickets are on sale here.
Main Image: Rob Houchen and Celinde Schoenmaker c. Benjamin Collins