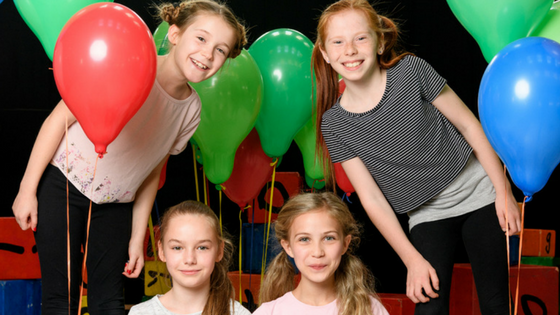 The Royal Shakespeare Company's Matilda The Musical has announced that Lily-Mae Evans, Kitty Peterkin and Savannah Read will join Emma Moore in the title role of Matilda from 12th September 2017. The multi award-winning production is about to enter its seventh year in the West End and is booking at the Cambridge Theatre until 27th May 2018.
To mark the arrival of the new children's cast, a video has been released today of the four young actresses as they take to the floor at Pineapple Studios, under the tutelage of Rebecca Thornhill, who plays Matilda's mum and bi-annual international amateur Salsa and Ballroom Dancing Championship competitor Mrs Wormwood.
The show's forthcoming cast change will see Lily-Mae, Kitty, Savannah and Emma join the recently announced new adult company, which includes David Shannon as Miss Trunchbull, Gina Beck as Miss Honey, and Tom Edden and Marianne Benedict as Mr and Mrs Wormwood.
Seen by over 7 million people across more than 60 cities and playing more than 5300 performances worldwide, Matilda The Musical is now preparing for its first UK and Ireland tour, beginning in March 2018, and running alongside the continuing West End production. Winner of 86 major international awards, including 16 for Best Musical, the hit show is now the longest running production to play at the Cambridge Theatre.
Inspired by Roald Dahl's beloved book, Matilda The Musical was commissioned by the Royal Shakespeare Company and premiered at the RSC's Courtyard Theatre in Stratford-upon-Avon in November 2010, before transferring to London's West End in October 2011, where it opened to rave reviews.
Find out about the Matilda Lottery Tickets