December doesn't just mean Panto's (though who doesn't love a panto?!) here's our run down of the top shows opening in December.
Snow White – The London Palladium
8th December 2018 – 13th January 2019
&nbsp &nbsp &nbsp &nbsp
Snow White at the London Palladium will star Dawn French as The Wicked Queen and sees the return of Julian Clary as The Man in The Mirror, Paul Zerdin as Muddles, Nigel Havers as The Understudy and Gary Wilmot as Mrs Crumble. Charlie Stemp will return to the London Palladium to play The Prince along with Danielle Hope who will play the title role of Snow White.
Just So – Barn Theatre
5th December 2018 to 12th January 2019
Five of Rudyard Kipling's tales weave together into a wonderous tale of personal courage, individuality and friendship.
A twenty-five year project that began with a series of inspirational stories, Stiles and Drewe (Honk! and Mary Poppins) bring us an imaginatively empowering piece of theatre in Just So. Set to an eclectic, upbeat score; Kipling's Just So Stories are woven with wit and imagination into a song-filled journey through the jungle.
&nbsp &nbsp &nbsp &nbsp
Murder For Two – The Other Palace
10th December 2018 – 13th January 2019
When famous novelist Arthur Whitney is found dead at his birthday party, it's time to call in the detectives. The only problem is, they're out of town. Enter Officer Marcus Moscowicz, a neighbourhood cop who dreams of climbing the ranks. With the clock ticking, it's up to Marcus to prove his super sleuthing skills and solve the crime before the real detective arrives.
Pinter Five – Harold Pinter Theatre
13th December 2018 – 26th January 2019
Harold Pinter's first play, The Room, features in a triple-bill directed by Pinter's colleague and friend, Patrick Marber. An all-too-familiar and frighteningly topical brand of English xenophobia runs through this darkly funny and unexpectedly odd play from 1957. In the hilarious Victoria Station and the reflective Family Voices, isolated voices attempt to communicate, but can we ever truly express the depths of our feeling?
Nine Night – Trafalgar Studios
1st December 2018 – 9th February 2019
Natasha Gordon's debut play transfers to the West End following a sell-out run in the Dorfman earlier this year. Gordon's play explores the rituals of family, and gets its name from the Caribbean wake period that lasts several days in which family gather at the home of the deceased and share condolences. The piece is set in Jamaica and follows the children of the recently deceased Gloria, as they embark on nine nights of rum, food and stories with family and friends who have gathered.
Peter Pan – The Park Theatre
5th December 2018 – 5th January 2019
Alexander Vlahos (BBC's Versailles & Merlin) has been confirmed to star as Captain Hook in a revival of the original 1904 Peter Pan play by J.M. Barrie. The production will also be the first Park Theatre production ever to feature flying effects.
Co-starring Nickcolia King-N'Da as Peter Pan and directed by Jonathan O'Boyle, the renowned family favourite from Neverland promises to sprinkle a little fairy dust over London this Christmas.
Continuing J.M. Barrie's love and support of Great Ormond Street Children's Hospital, 5% of all royalties from this production will go directly to Great Ormond Street.
White Christmas – Curve Leicester
6th December 2018 – 13th January 2019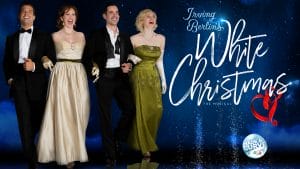 Curve's Artistic Director Nikolai Foster, who directed the award-winning Curve productions of Sunset Boulevard and Legally Blonde, will reunite with two-time Olivier Award-winning choreographer Stephen Mear to bring a host of new and familiar faces to Curve's stage in Leicester for the classic winter musical. Among those returning to the theatre are Danny Mac and Emma Williams.
Based on the Paramount Pictures film of the same name starring Bing Crosby and Danny Kaye, with music and lyrics by Irving Berlin and book by David Ives and Paul Blake, White Christmas tells the story of Veterans Bob Wallace and Phil Davis and their successful song-and-dance act after World War II.