Ben Vardy is a member of devised theatre company, The Wardrobe Ensemble, who have over the last eight years created fifteen shows.  Their Fringe First winning Education, Education, Education will shortly transfer to London's West End and Trafalgar Studios in their next major milestone.
The Wardrobe Ensemble is a Bristol based company, born out of the Bristol Old Vic Young Company, Ben Vardy is the only member from London, and his move in to theatre came as a surprise to him, "I was studying physics and philosophy at University," explains Ben, "I was really into improv and was president of the Improv Theatre Society, but I never thought I was cool enough to be cast in the Drama Society shows, I found it quite frustrating."
It was a visit from the Bristol Old Vic Young Company that changed things for Ben, "they came to do a workshop on physical theatre, and I thought it sounded interesting, I suspected it might be a bit pretentious with people pretending to be trees or something, but I ended up loving it and I discovered that the same principals I was applying to improv scenes could also be applied to physical theatre."
Ben joined the Bristol Old Vic Young Company as part of the Made in Bristol course, which saw visiting companies come and work with the group, "we were given a week long slot to perform what we made, and we ended up taking that show to Edinburgh Fringe."
It was from here that The Wardrobe ensemble was created, as a devised theatre company, Ben says that the company feel much more attached to the work they create, "you're not just a performer, or just a creative, you are in an overlap between both. You have ownership over the work you are creating, quite different to a lot of theatre out there.  We know each other very well, we are like a family to each other so that closeness and creative trust means that we can all feed in to the creative process, the shows end up being richer for it because you're not just telling the story from one person's point of view."
That first show which went to Edinburgh was Riot, and through a series of coincidences, gathered a lot of media attention, "our show was the true story of the riots that broke out in a new Ikea store in 2005, it was a fun satire of consumerism, but on the day of our first performance, the student riots broke out in London.  Our Facebook event, 'Riot in Edinburgh' suddenly got taken down and now the press had a hook, we got all this press attention we weren't expecting and were soon selling out."
The wardrobe Ensemble also found some new fans that year, "Sebastian Born from the National Theatre came to see us in that initial run, and was a great champion of our work, and continues to support us now, a number of people who saw us in that first run have continued to support us and we're very grateful."
The company will return to Edinburgh this year for the fifth time, with a brand new piece of theatre, but first they make their West End Debut with Education, Education, Education at Trafalgar Studios, "like our other shows it's a devised show, so we write and create it together.  It's set in a struggling state school in 1997, in an education system that has been long suffering under several Tory governments.  Its set the morning after Tony Blair is elected for the first time, and it's about capturing the optimism that people felt that day, the sense of 'Cool Britannia' and 'things can only get better', when Tony Blair was almost a messianic figure."
"It also takes the idea of a school being a microcosm of society, it asks what you do with people who don't follow the rules, and what is fair.  The main character is Emily Greenslade, she starts a petition when she isn't allowed to go on a history trip and it's a small nod to the Iraq War and how so many people were ignored."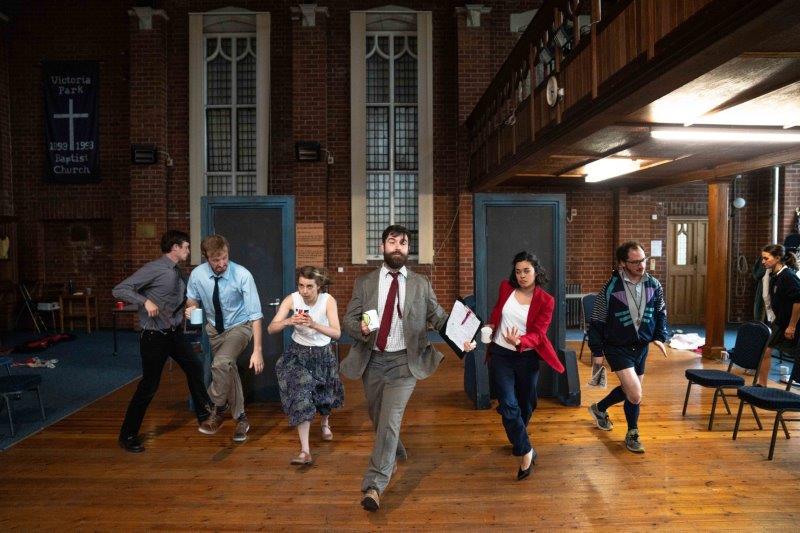 Ben says that The Wardrobe Ensemble make shows which are fast paced, playful and irreverent, "In the school it's muck up day, the day when kids play pranks just before they finish up, so all the chaos feeds in to the story, I guess you could call it a farce.  It's also chocka-block full of nostalgia, and great music from The Spice Girls, Blur and Oasis, it's a blast from the past."
Ben doesn't just play his character, he created him, "Mr Pashley is a PE teacher, he started as an improvisation and I chose that name because that was the name of my PE teacher, but this character is very different to him.  My Mr Pashley wants to please everyone, but people just find him really annoying, and he can't connect with anyone, there's a nice subplot where he finds a surrogate friend in a Tamagotchi."
It's an exciting Summer ahead for Ben Vardy and The Wardrobe Ensemble, while they are still performing Education, Education, Education at Trafalgar Studios, they will be rehearsing The Last of The Pelican Daughters for Edinburgh, "it will be a very busy summer, but I'm so excited to be taking a brand new show to Edinburgh and one of our most successful shows to the West End."
Education, Education, Education is at Trafalgar Studios 31st May to 29th June 2019.
The Last of the Pelican Daughters is at Pleasance Courtyard 31st July – 25th August 2019.
Book Education, Education, Education Tickets
Main Photo Credit: The Other Richard