Craig Gallivan plays Olaf in the new stage musical Frozen, opening at the newly refurbished Theatre Royal Drury Lane on 8th September, with previews from 27th August 2021.
Frozen – produced by Disney Theatrical Productions – opened on Broadway in March 2018 to box office records, and three Tony Award® nominations including for Best Musical.  The London production will be directed by Michael Grandage.
Starring alongside Craig Gallivan will be Samantha Barks as Elsa, Stephanie McKeon as Anna, Obioma Ugoala as Kristoff and Oliver Ormson as Hans.  Tickets are on sale here.
You're playing Olaf in Frozen, what can fans of the movie expect from this stage version?
It's like nothing I've ever seen on stage before. The sets are absolutely epic, the magic is breathtaking, and the songs sound better than ever!
Sounds like it's going to be a real must-see, how did it feel when you found out you had been cast as Olaf?
I couldn't believe it. My baby son was born a few days before I got the news about Olaf so it was certainly a week I'll never forget.
What's your favourite thing about Olaf?
It's been such an amazing artistic challenge to learn how to animate the Olaf puppet. The clever little tricks I can do with him are going to take everyone by surprise.
Like many new shows, your opening has been delayed due to the pandemic, how difficult has that been for you and your cast mates?
It was a tough time for everyone and the opening date kept getting pushed back and then pushed back again and it all felt so close but we never quite got started….until now. It's definitely worth the wait.
And how have you been getting to know the rest of the cast, have you worked with any of them before?
I worked with Joshua St Clair on School Of Rock so it was great to see a friendly face on day one. But also part of the joy of working in theatre is getting to know new brilliant, talented people with each new job, and they really are an amazing bunch.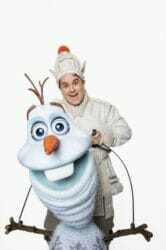 What new skills have you had to learn to take on this role?
I've already mentioned the puppet which is certainly the biggest new skill, but also for me a lot of focus has been spent trying to master Olaf's voice. I want to reflect what Josh Gad did in the film but also make it my own. It's definitely a tricky balance but I think I've got what I'm looking for now.
Michael Grandage is directing, what advice has he given you?
For Michael it's all about being honest. Just because Olaf is a comic character you still have to find the truth of the moment and not fall into the trap of pulling funny faces. It's good to be reminded that 'believability' is the key.
Have you got a favourite song, or part of the show yet?
Well the Olaf solo 'In Summer' is great fun and out of the blue the set transforms in such a brilliant and fun way to transport the audience to a sunny beach. But to be honest, all the songs in the show are so stunningly good that I fall in love with a different one almost every day.
What would you say to anyone thinking of booking tickets for Frozen?
What happens in this production of Frozen has to be seen to be believed. You just have to come see it. I reckon most people at the end of the show are going to walk straight to box office and book to see it again. It's that good!