It's not at all unusual to find people working in the performing arts who have a second job, or a cottage industry business simmering on the side. Something that pays the bills between theatre jobs can be as much a part of being a performer as the years of training it takes to get a foot in the door of this notoriously difficult profession. For Ed Currie and Andy Coxon, their passion project was never meant to turn in to a business, but in trying to solve a problem for themselves they've created 'Akt London', a new deodorant brand that's taking the cosmetics industry by storm.
It all started with Ed, as a professional dancer living a busy life, he found that the traditional brands of deodorant he had been using since he was a teenager were no longer up to the job, "I was a dancer doing eight shows a week, rehearsing during the day, and fitting the gym in-between" says Ed, "but nothing was keeping me fresh and dry, I hated those underarm stains, and I was throwing so many clothes away because they were getting ruined."
Ed had tried all kinds of natural deodorants, but wondered why still no one had figured out how to make a deodorant that worked for him, and others like him. Armed with only an A-Level in Biology and a determined naivety, Ed set about trying to formulate his own brand of deodorant balm.
&nbsp &nbsp &nbsp &nbsp
"I just started researching online, what ingredients, and most importantly, what natural ingredients went in to deodorants, then I started concocting it all on my hob in my little flat in Camden." Ed admits this wasn't an overnight process, in fact it took him three years to get a formula that worked, "but it was never intended to be a business, I just wanted to solve my own problem, so every week I would come up with a new formulation, try it out on myself and friends, making tweaks and perfecting it."
As Ed spent his free time experimenting in his kitchen, his professional life saw him cast in the West End production of Beautiful: The Carole King Musical, and it was here he met Andy Coxon. The pair hit it off, even finding themselves in a 'showmance', but while their romantic relationship didn't last, it turned out to be a business match made in heaven.
"After Beautiful, I was still working in the industry, but Ed had decided to step away from performing," explains Andy, "he didn't really know what to do next, and I said you are sitting on this amazing product, which we had been using ourselves, so I said let's make this a business."
Andy took Ed to see a friend in a play in Stratford, afterwards in the pub they met Caroline Quentin, who's husband is a cosmetic formulator, "he set us up with a mentor, who helped us understand how we could take this to the next level," says Andy.
Ed points out the first major hurdle was a lack of capital, "we didn't have any money to start a company, we're actors! But our mentor said we'd need about £15,000 to get it off the ground, so really the only option we had was to launch a Kickstarter campaign, which we'd never done before, and honestly didn't realise how much hard work it is."
With the campaign about to launch, Ed and Andy knew they needed to spread the word, and it was Andy who had an idea, "I decided we should give a sample to every performer in the West End, we were a week in the kitchen making up a thousand samples, and then we spent a full day going round all the stage doors in London handing out these big boxes of product."
&nbsp &nbsp &nbsp &nbsp
It worked! Overnight their new brand of deodorant exploded on social media, as the stars of the biggest theatre shows in the country gave it the official seal of approval. "We hit our Kickstarter target on the very first day," says Ed, "and by the end of the month we'd raised £50,000, so at that point we knew there was no backing out, we were all in."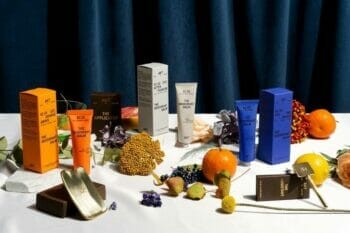 Ed and Andy say they face daily challenges at Akt HQ, but the biggest and scariest came when they were forced to change their brand name following a trademark dispute. "We'd always hidden our performing arts background, I think we thought the cosmetics industry wouldn't take us seriously," explains Ed, "so when we were forced to change the brand, we decided it was time to embrace who we really are."
Take a look at the Akt website and you'll find it's more than just the name that's inspired by Ed and Andy's other career; fragrancies are described in the way a playwright might set a scene, while the typeface evokes images of theatre billboards, and their tagline…'Born to Perform' of course.
Ed says, "not everyone will notice it and that's fine, but it's so much more authentic to who we are. With the first brand we were trying to be something we weren't, so actually that trademark issue meant we now we have a brand that we love, and represents us."
Akt is certainly a brand with a lot to love, as well as being a great smelling, super effective deodorant, it also comes with green credentials. "We always wanted to strive for sustainability," says Andy, "so from the very first day we decided we would be completely plastic free, although it has not been easy. Our first product was in tins, but you couldn't seal them, now our product is in a tube with an aluminium cap which no one else does, that means we are 100% plastic free and we are adamant we'll stay that way."
"We don't necessarily want to be seen as a green product, we just want green to be normal for commercial products, some companies are starting to do that, but because we've had this from day one a lot of our customers are already engaged with that ethos, so we want to stick to it."
It hasn't been an easy twelve months for Ed and Andy, the pair haven't seen each other face to face in over a year because of the pandemic, which means they haven't been able to properly celebrate the official launch of Akt, their feature in Vogue Magazine, or taking the title of 'Best Deodorant' in the annual "Best of the Best in Beauty" awards from Harper's Bazaar.
Brexit too presents a new challenge, with around a quarter of the company's sales coming from mainland Europe, "we're basically having to start again and create a new company just to be able to trade in Europe," says Ed, "but we have to do it because we're actually employers now, we have an expanding team who are relying on us to pay their wages."
But for all the difficulties they've faced, the rewards have been greater. Andy, having been on just his second day of rehearsals for West Side Story when the pandemic hit says he feels incredibly lucky, and grateful, to have had something else to turn his focus to.
"It's given me structure, I'm at my desk in the morning to start work and without that I don't know how I would have got through this, or how I would have coped. We have friends who are really struggling and with this business we've been lucky enough to be able to help some of them by giving them work."
The pandemic has had a devastating impact on the theatre industry, but it's also given Ed Currie and Andy Coxon a chance to focus on building their new business. With a string of successes already under their belt, and a new line of fragrances due to be released later this year, Akt is a brand that was born in the West End, but has the potential to be loved across the globe.
Find out more about Akt London, including the new subscription service, here.
&nbsp &nbsp &nbsp &nbsp