Jack Brett Anderson grew up in the East End of London, and despite being involved in local theatre at a young age, didn't see himself ever acting professionally.  Jack joined the army cadets, an experience that he says gave him the confidence he would come to rely on in later life.  But while many of his friends went on to join the army full time, Jack chose a different path.
His first professional acting job came in 2013, when he landed the role of Mark Godley in BBC's Casualty.  The TV drama is often a launch pad for actors and their careers, but few reach the successful heights that Jack has, going on to star in the hugely successful fantasy teen drama series, Wolfblood and the Emmy winning Genius.
In 2017 he returned to the London stage in Tina Jay's Held, set in a male prison, where he played two different lead characters.  It would turn out to be the beginning of a very special working relationship, "Tina took a huge risk on me with that play," explains Jack, "I didn't even audition! Tina just said she trusted me to do it, it was a great experience and it really allowed me to showcase myself."
At the end of the run, Tina asked Jack if he would direct her next play, "I wasn't expecting it, but I'm quite a ballsy and bolshy guy," laughs Jack, "and I love to be challenged, I get bored pretty quickly."  Jack says that two years ago he might not have been completely sure about directing a play, but feels now he has settled in to the creative industry, "knowing where I'd come from in 2010, the East End of London and a somewhat broken home, I thought we are all just human, if we have the passion and drive we can achieve whatever we want, so just go for it!"
Tina's new play, and the one that Jack now finds himself directing, is Syndrome, and follows a group of men in the first Gulf War, and the after effects of seeing conflict on foreign soil. "The first act follows the soldiers at war out in Iraq and the difficulties they faced, and you can see the comradery but also discussions about why they were there.  Act two is five years later and you see the differences in these men, a lot of them came back with syndromes, we've all heard of PTSD and that's psychological, but these men also came back with physical problems, mutations caused by chemical warfare, burning fuel on the oil fields, or overdoses of vaccinations – it's not blaming anyone it's just highlighting that it happened."
"When I was first asked to direct the play I didn't know much about the Gulf War, but I did know a lot about the army from my cadet days," says Jack, "I realised when I read the play, that the army, which had given me so much in life; confidence, discipline and friendship, had also taken away so much from these men, and now they're not even spoken about."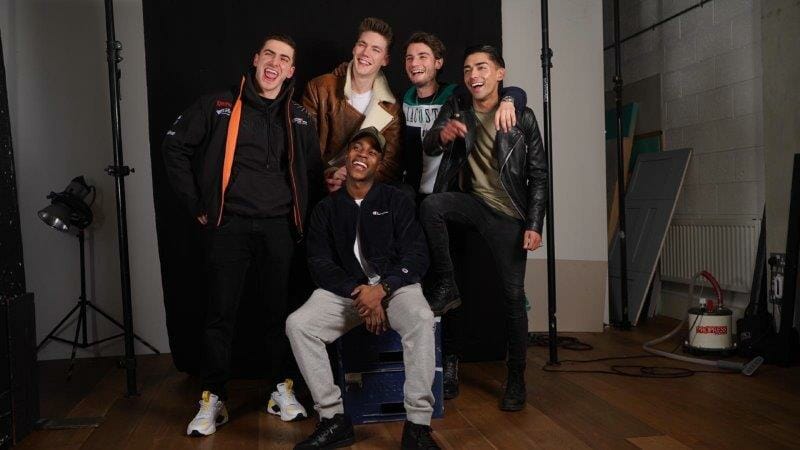 Jack says the realisation of what had happened to these soldiers came as a shock to him, "I realised the way Tina has written the story shows how everyone is always being brave, because everyone wants the best.  These people joined the army because they wanted the best for themselves, and they've been stripped of everything because of what they went through.  I felt emotionally nuked by the story, and knowing that there are men living these scenarios for real, meant I knew it was a story that had to be told, and that Tina has trusted me to tell this story means so much to me."
Jack says that Tina Jay has captured army life particularly well, "if she hadn't, I don't think I could have directed it. When I read it, I didn't think at any point that anything needed to change, and she hasn't been in the army but she's got it all right, so it's my job to bring that to life and make it as relatable as possible."
The cast have just had their first table read, and Jack says the experience blew him away, "I'm so proud of the casting process we went through, they made me laugh, and cry, and uncomfortable at times, it was so amazing, there was stuff in the script that I knew I had to pull out from my experience in the army."
And that experience will certainly come in handy during rehearsals, "my friends from cadets, who went on to join the army have been very supportive, and they will come to rehearsals to help out. I'm also going to get a drill instructor in so they can go through it for real, and have that sense of truth and experience, and I'm hoping we can all do Tough Mudder together, the cast are so excited about it all."
While Jack is promising to bring out the big ammo during rehearsals, he wants Syndrome, and the men it portrays, to be remembered after the run has ended, "I've commissioned a documentary around the making of the play, so that we don't forget these men.  It will give the play a longer life, as this story is important and it shouldn't end with this run, the run of a play is a miniscule amount of time compared to the length of time that these men have been affected."
Hussain Manawer will host a Q&A after the first show which he will open with a poem, "we've been friends for a while, and I knew he would be the best person to do it.  The mental health aspect is important and this will help us share that message.  Hussain is an important figure in the young and diverse community, and I think he is a symbol of what this play represents."
Jack is excited to be bringing this story to the stage, "it's not just about the soldiers, it's about their families and loved one's too. I think it will show the emotional side of men, if there are any young boys or girls out there who see strong men crying, I hope it helps them realise that men can be emotional and that everyone can accept the feelings they may be feeling."
"That's why it's important we bring this to the theatre, on the stage it's raw and real, when you're in the room you can't ignore it.  As a society we are more connected than ever, but also more disconnected because so much happens behind a screen, so I hope for the people who get to see it, they see something real."
Syndrome, directed by Jack Brett Anderson, is at The Tristan Bates Theatre 18th – 29th February 2020.