Mark Robert Petty is the producer of fundraising gala #CheerUpCharlie – The Show as an exciting line-up joins Charlie Kristensen, the 11 year old passionate anti-bullying campaigner.
Hosted by Ben Stock and Hilary O'Neil, with Musical Direction by Tom Knowles, the evening will feature a whole host of the West End's much-loved top musical theatre performers. #CheerUpCharlie – The Show is at The Actor's Church 31st October 2021.  Full details and tickets can be found here.
Profits from ticket sales will be split between Acting For Others, which provides financial and emotional support to all theatre workers in times of need through the 14 member charities, and The National Deaf Children's Society which is the leading charity for deaf children.
You're producing #CheerUpCharlie The Show at The Actor's Church, what can you tell us about it?
#CheerUpCharlie – The Show is a fundraising gala in aid of Acting For Others and also National Deaf Children's Society, featuring an all-star West End Cast. There will be 27 acts including, solos, duets, trios and group numbers as well as a number of musical theatre colleges from London and beyond. Oh and also a ventriloquist, a mind-reader and the amazing Deaf Men Dancing.
How did you first get involved in working with Charlie?
I saw the initial tweet that Jacqueline Hughes put out and messaged her to invite Charlie and his family to Crazy Coqs at Brasserie Zédel so that they could have an evening of Musical Theatre cabaret surrounded by people who love Musical Theatre as much as Charlie does.
I host a twice monthly residency there called The Crazy Coqs Presents where we have different themed shows with five or six West End performers each time. Charlie had so much fun and told me that he loved Stephen Sondheim, and as my next show was a Stephen Sondheim night, I invited him back so that he could sing Giants In The Sky.
I have been working with Charlie ever since, and last year we created the Musical Chairs with #CheerUpCharlie YouTube series where he interviews a different celebrity every week. It seemed like a natural progression to put on a show as a way of celebrating how far Charlie has come in a relatively short space of time and also to raise money for some very worthwhile charities.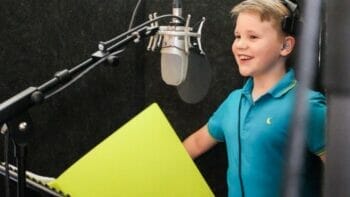 And what have you found most inspiring about working with Charlie?
Charlie is the most inspirational young man that I have ever met. He is dedicated, hard-working and totally committed to making a difference. He doesn't want any other child to have to go through the terrible ordeal that he went through. He is now a Diana Award recipient for his anti-bullying campaigning and also received a WhatsOnStage Angel Award this year also. I truly believe that he will achieve everything that he puts his mind to.
This is a fundraising event, tell us more about the charities that you're supporting?
So we are supporting Acting For Others and also National Deaf Children's Society. We chose these charities as we definitely wanted one to be theatre based and Acting For Others are truly remarkable in all that they do. We then chose National Deaf Children's Society as this is a charity very close to Charlie's heart as he is partially deaf in one ear.
The night will be bursting with West End stars, why do you think so many of them were keen to be a part of it?
I think that once you have met Charlie there is nothing that you wouldn't do for him. His passion for life and for the arts is astonishing. His story is also immensely moving and to see how he has turned something so incredibly negative into this beacon of light is just beautiful.
What would you say to anyone thinking of booking tickets for #CheerUpCharlie The Show?
Don't just think about it as the tickets are almost all gone!!! Our fabulous hosts are Ben Stock and Hilary O'Neil. This is going to be a magical night filled with glitz, glamour and so much fun. It's like a variety show spectacular. There is something for everyone in this show and there will be some very special songs that you wouldn't expect. The show is also being BSL signed by Paul Whittaker OBE and Stephen Heselton. There is also going to be a raffle with some amazing prizes so get booking those tickets!
Stars scheduled to appear include musical theatre performers: Lewis Asquith (Joseph and the Amazing Technicolor Dreamcoat, Soho Cinders), Lizzie Bea (Hairspray, Kinky Boots), Nikki Bentley(Wicked), Daniel Boys (Falsettos, Nativity Rocks!), Kieran Brown (The Phantom of the Opera), Robin Cousins (Olympic Gold Medallist, Chicago), Maria Coyne (Wicked, The King and I), Ferris & Milnes, Adrian Hansel-Actor(Five Guys Named Moe, Hairspray), Jacqueline Hughes (Wicked, Mary Poppins), Sophie Isaacs (Six, Heathers, Kinky Boots, Pantoland), Kim Ismay (Wicked, Mamma Mia!), Melissa Jacques (Everybody's Talking About Jamie), Alison Jiear (Jerry Springer: The Opera, Les Misérables), Gemma Knight Jones (Come From Away), Carolyn Maitland (Miss Saigon, Groundhog Day, Annie, Ghost), Nadim Naaman (The Phantom Of The Opera, Broken Wings, Rumi: The Musical), Sara Poyzer (Mamma Mia!), Oliver Savile (Wicked, The Last Ship, Falsettos), Scott Sutcliffe (Wicked), Jon Tarcy (The Sound of Music Live, Outlander), Simeon Truby (Wicked), Shona White (Les Misérables, Mamma Mia!), Jacinta Whyte (Annie, Les Misérables, Angela's Ashes), Helen Woolf (Wicked), As well as Joseph Fletcher and Natasha Volley from DMD+ (Deaf Men Dancing+, founded by Mark Smith).
Further performers include: Country crossover duo One Trick Pony, This One's For You – A Tribute To Elton John (with Dougie Carter, Ben Barrow and Sam Ebenezer), The Cast of Rumi: The Musical, Mind-Reader Matt Daniel-Baker, and Ventriloquist Max Fulham.
They will be joined by students from ASA Theatre Arts – Performing Arts Academy, London School of Musical Theatre, MX Masterclass, Masters Performing Arts and Royal Central School of Speech & Drama.