Poet Simon Mole will be bringing Friends For All, his interactive spoken word performance for families, to The Roundhouse, London, on Sunday 24 June 2018 at 1.00pm & 3.00pm as part of his 2018 Spring Tour. The performance is part of The Last Word Festival, celebrating fearless storytelling.
Friends For All is a story about having the confidence to be yourself and stand up for what you believe in and features rapping, dancing and far-out video projections for ages 5-11 and their grown-ups.
How would you describe your creative role, and work, for Friends for All?
I'm both a writer and performer. Kids who come and see me can expect poems about ninja skeletons, raps about pug dogs playing football, stories about boys who meet Pacman and girls who can't stop drumming.
Since becoming a Dad, I increasingly write for, and with, young people. Friends For All is my first show for children and families, and it was commissioned by the V&A. It's touring in 2018 as part of Half Moon Presents.
I've been doing more poetry and theatre than music the last few years, but my love of words and writing began with hip hop.  I was a hippy kid with Kurt Cobain curtains and a skateboard who discovered I could rap in my teens. I built my skills up at the open-mics and battles of the Brighton hip hop scene. There's a lot of rapping in Friends For All, and it's really exciting to see how that use of rhythm and rhyme can engage young people, and help them to follow a story.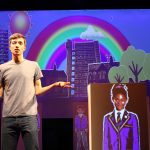 Whether songs, poems, picture books or plays I feel like everything I make is a story. And as I'm the only 'real' person on stage (there are also life-size video projections of the key characters) I guess there is a little bit of acting going on at points. I don't feel I'm ever 'pretending' to be any of the characters in the show, but I definitely stand in for them or represent them and their emotions at points.
This is now my third show working together with director Peader Kirk, and all of them have toured across the country. We share a geeky passion for cinematic story structure, which means that we often map out a narrative arc that might work for a feature film and then set to work translating that – in this instance into a 40-minute interactive rap story for kids!
Why do the issues covered in Friends For All particularly resonate with you?
I was originally commissioned to create Friends For All as a show that would accompany the V&A's exhibition "You Say You Want A Revolution?", which explored the social and cultural upheaval of the late 1960s through music, performance, fashion and political activism. The show is set in the modern day but draws on this theme. My parents and their friends lived through the era of the 60s, and I believe their world views and personalities were very much shaped by that experience. It's always been a period of history I've heard a lot about and been very inspired by. As a young kid of about 7 or 8, I just wanted to rebel and protest like they had. My life in middle-class Brighton was pretty good though, so I had to search hard for those opportunities to make my anti-authoritarian values heard… Two examples come to mind: 1. Me on the balcony with a home-made hand-drawn "save the snails" placard chanting at my dad as he went out to the garden with a bag of salt, ready to commit MURDER!  2. Me on primary school non-uniform day rocking my mum's culotte trousers, just to prove that boys can wear skirts too! This example is actually on reflection a direct link with the show itself!
Our hero is an eight-year-old girl, Lexi, who lives in London. She doesn't make friends as easily as some. She, like me, longs for a non-school-uniform day so that she can be herself and find others like her. Inspired by her grandad's hippy stories from the swinging '60s, she decides to fight the powers that be, namely her class teacher and the school bully.
As a parent myself it's been amazing to have families watch the show and then say that they've been going through some of the challenges Lexi faces themselves; peer pressure, having the confidence being yourself, and the courage to stand up for what you believe in despite what others say or do. These are big things for young people to deal with, so to think that the show on some level might help them work that through is incredible.
What are the pleasures and challenges of working on a show like Friends For All?
I love performing this show –  by the time this Spring tour starts, that is already 39 times and counting. I do enjoy the more light-hearted and funny elements. However my core motivation is the hope that we can open up space for young people to unlock, imagine, and create for themselves an idea of what they could or may want to change in the world.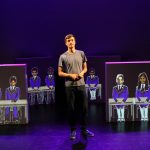 Now that I'm a parent myself, I'm pretty regularly in varying states of despair about how it feels like grown-ups have ruined the world for the next generation, what with issues such as irreversible sea level rise, or the threat of nuclear war.
Looking back at history, it feels like perhaps protests had more impact in 1960s. Or more people found it worthwhile to participate in them, as it was more common to believe change as possible.
In writing this show, I wanted to explore what the idea of protest might mean to children and young people today. It's so important that we do see change as possible, and don't regard ourselves as helpless or without voice in society.
Do you particularly enjoy working on shows for a family audience? How, if at all, do you adapt your work for them?
I absolutely love it! I've always enjoyed working with younger kids, but in the last couple of years I've started writing with and for them much more than adult audiences. When the V&A approached me about making my first full-length show for children and families, I soon realised that this meant my writing must be consciously more poetic and linguistically playful. It was not about simplifying the way I write for a younger audience.
Like the best films for kids, we want our shows to work on more than one level. I enjoy sprinkling in a few moments throughout that whilst still making sense for the kids, are perhaps more aimed at making the parents chuckle or consider something in a different way too.
In terms of the practicalities of performing a show for kids, there are a few differences! As a parent myself I know that some days it feels like an insurmountable task just to getting your kids sat down at the same time, with none of them desperately needing a snack or the toilet or a nap, or all three. As a performer that just means getting used to a few more disruptions, and embracing the more leftfield or unexpected contributions during the interactive sections!
How have audiences so far been reacting to the show, and how does that make you feel?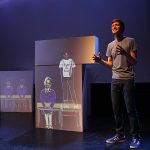 As with the many young people I have collaborated with in workshops and residency projects over the years, I am seeing audience members struck by the realisation that they have the right to express themselves however they choose, and that by doing that creatively they can become a force of positivity and hope in the world around them. It is possible to help bring about the change they believe in – hopefully some of them will consider fighting for that change with poetry!