Last week, Theatre producers Chris Wheeler and Paul Morrissey launched a brand-new digital subscription platform, A Spotlight On, we caught up with them, and some other familiar names who are part of this new streaming service.
Chris and Paul were keen to emphasise, A Spotlight On is more than a video streaming service. It is an entertainment hub and an educational resource. A place where you can get to know the storytellers, through masterclasses and never before seen interviews to unique concerts and much more besides.
"I'd like to say it's like Disney+ for theatre" says Chris, "it shines a light on all aspects of the theatre world.  We all know it's the actors who stand on stage and take the bows, but on A Spotlight On we also talk to writers, directors, lighting designers, set designers and so many more people who are crucial to putting on every show."
&nbsp &nbsp &nbsp &nbsp
"There's a whole other community that exists behind all of those people who stand on stage, that keep the cogs turning.  We try as a platform to shine a light on every single one of them and to give them the same value as the performers."
Paul adds, "as producers, we know all these roles exist, but sometimes we can walk into a tech rehearsal and there are thirty-odd people all working around the people who are standing on stage, and even for us it's surprising just how much goes into putting on a show."
"So we're really excited that this platform will genuinely shine a light on all these individuals and the incredible work they do in the industry."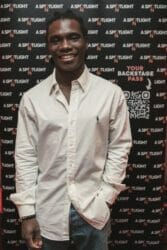 A Spotlight On will feature interviews with theatre's much-loved stars, and Michael Ahomka-Lindsay, currently starring in Disney's Newsies, is one of the first to be released, "I really enjoyed the experience," says Michael, who was interviewed by Mel Giedroyc, "we were just chatting away like old friends, obviously Mel has done musical theatre too, so it was great to be able to share the experience."
Michael says he'll be signing up to the platform because of the opportunity to learn more about theatre, "I've spent so much time watching YouTube or listening to Podcasts, trying to learn more about theatre-craft, and A Spotlight On brings that together all in one place, then on top of that there are performances too."
Natalie Paris has also ben interviewed for the platform, "I always get slightly nervous doing interviews, but this was such an amazing experience, it felt like such a genuinely lovely chat about my life and what I've done in my career."
&nbsp &nbsp &nbsp &nbsp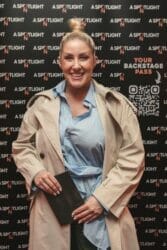 "It was great to talk about SIX which has been such a big part of my life, but it was also so lovely to talk about my earlier career and other things that I've done, I think these interviews really help you learn more about people and get to know them on a personal level."
Paul tells us about an upcoming interview with writer Patrick Marber, "there's something for everyone in this one, whether you're a die-hard theatre fan or not, because everything he says is just golden, we were trying to get it down to forty-five minutes, it's actually going to be ninety, because it's that good."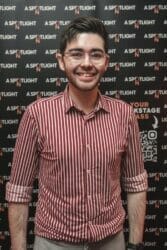 Mickey-Jo Boucher will also host a series on the platform that looks at surprising roles in the theatre industry, "I had the great pleasure privilege of being asked to find a diverse group for this series," says Mickey-Jo, "obviously there are roles that jump out, like Stage Managers and Front of House, but I also get to speak to people in roles you don't tend to think about, like artwork designers or theatre photographers."
"I've learnt so much doing this, I would consider myself the biggest Les Mis fan, but when I sat down with their Dance Captain, my mind was blown!  There's so much fun trivia for musical theatre lovers in this series."
Something that everyone working on A Spotlight On agrees with is the importance of sharing the work of every aspect of the theatre community, and having a platform that is educational as well as entertaining, "all of these people are the lifeblood of theatre," says Chris, "and without everyone working together, the show literally would not go on, that's why it's so important we finally put a spotlight on all of these incredible important people."
A Spotlight On is available now online or as an app.  Readers of Theatre Weekly can get 10% off an annual membership with the code THEATREWEEKLY10, valid until 31st May 2023.