A brand new musical set simultaneously in the 1940s and in the present day, Pieces Of String tells how Jane's father, Edward, came back from the Second World War with a secret that would change his life forever – a secret that he would carry until the day he died.
With hauntingly beautiful music and a heart-rending human story, Pieces Of String by Gus Gowland is a tender, funny, emotionally-charged exploration of how three generations of one family learn to deal with a story that nobody's been brave enough to tell until today. Times may have changed but some battles still need to be fought. We caught up with Gary Wood and Craig Mather to find out more.
Pieces of String played at Mercury Theatre Colchester 20th April – 5th May 2018.  The production will be streamed online for free to mark the 75th Anniversary of VE Day on Friday 8th May 2020 between 10am and 11.59pm (BST).  The stream can be watched here.
Pieces of String is at Mercury Theatre Colchester, what can you tell us about it?
Gary: It's a beautiful new musical with an exceptional cast that I personally feel lucky to be a part of. If I could, I would buy a ticket and watch the show as an audience member! I defy anyone not to come away having connected emotionally to some aspect of our story.
Craig: It's a musical set in two different time zones but they are coexisting in the same house. It's a show about family secrets and relationships.
Tell us about your character?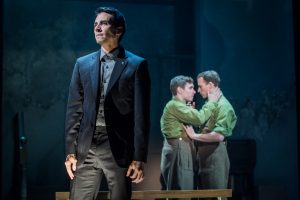 Craig: Edward is a charming young man who has his life turned upside down by getting called up by the British army in WW2.
Gary:  Harry is resilient and patient, partly because in order to be in his relationship with Ed, he has to be. Ed's mother Jane has struggled to accept Ed's sexuality and so actively tries to push Harry out of the equation. Because Ed does not stand up to her, this causes a huge strain on his relationship with Harry. When we meet Harry in the show he is at the point of deciding whether to carry on being treated this way, or to walk away.
What attracted you to the role?
Craig: After reading the script I was truly excited about the piece, I have read many scripts and hadn't had such a strong connection to a piece in a long time. So, I jumped at the chance to play Edward.
Gary:  I connected instantly with Harry as in a previous relationship I was that person who is patient and who sacrifices their own happiness to suit someone else's needs. I found it easy to understand the side of Harry that is torn between self-preservation and a sense of obligation to someone else.
How does the role differ to ones you've played in the past?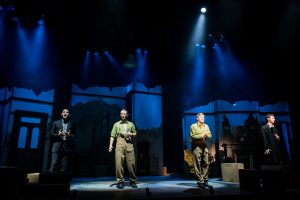 Craig: Every role I've played have been different. Which is why I love acting. You find similarities, of course, But the last role I did was Mole in The Wind in the Willows. So Edward is quite far away from a Mole!
Gary:  Harry is probably the character that feels the most like me in comparison to other parts I've played, and there is something quite therapeutic about that. I find myself thinking about situations from my past that link very closely to those in our story and in a way that's been quite freeing, to get it out and let it go.
What surprised you most about the script?
Gary:  It's not often that I get sent scripts where the prominent story is about two men falling in love. Not only that, but this story had TWO gay couples! I appreciated how well the story was told and how none of the characters felt like the stereotypes we've seen plenty of times before. But ultimately, it's a beautiful story about love, and that's it.
It's set both in the 1940's and present day, does that present any challenges in the staging?
Gary:  I think there in the rehearsal room our question was always about whether it would make sense to the audience, but I think our lighting designer Ben has done a brilliant job at really separating the two worlds. From the actor's point of view we just have to focus on our own timeline and our own story and try to ignore the others. That can be difficult because sometimes you just want to watch them!
Craig: Yes, the challenge is keeping both story's alive in one space but without upstaging and seeing the other time zone.
What's your favourite song in Pieces of String, and why?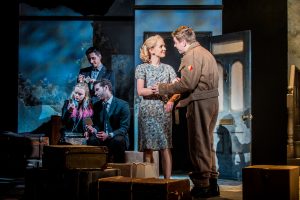 Gary:  I think Lauren does a beautiful job with Clouds. The way it is staged is so simple but so effective. I also love to sing Standing In The Shadows with Joel, Andy and Craig. Those boys have three of the most beautiful voices I've ever heard and to sing with them is a joy.
Craig: Ordinary for me, I love the melody and love the fact lyrically it grows through the song, and never settles.
How have you got to know your fellow cast mates?
Gary:  At our rehearsal space we had a lovely big kitchen that we would often spend our lunch breaks in just chatting and getting to know each other. We all have a similar sense of humour so we've spent a lot of time laughing in there. Also for most of us we are away from home, but this means we probably spent more time socialising outside of work than we perhaps would have were we in London. A few of us would take regular trips to the cinema for something to do in the evenings. We also made use of the Gin Bar in the town and may have ended up singing karaoke in a pub one night….
What would you say to audiences who might be thinking about coming to see Pieces of String?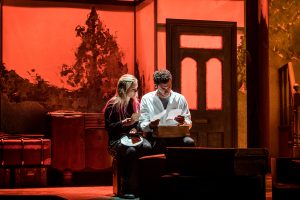 Craig: Bring a box of tissues and be ready for an emotional journey.
Gary:  Do it! We only have a limited number of shows and it's always nice to #BeThereAtTheBeginning