Lorraine Chappell plays Kate in Mamma Mia The Party at London's 02, a four hour dining experience created by ABBA's Björn Ulvaeus, where guests can immerse themselves in a spectacular musical extravaganza, a four-course Greek feast, and an ABBA disco, all in one unforgettable evening of dancing, dining and singing.
Lorraine has Bonnie Langford's mother to thank for being in the profession that she's in, "she said to my parents that she thought I had something, so I started training when I was eleven," says Lorraine, "I had quite a natural aptitude for ballet, and then found myself really enjoying musical theatre, I even had the chance to perform in the West End in Aspects of Love."
Lorraine says she'll always be a dancer first, but has transitioned to musical theatre, It all started with Phantom of the Opera, I queued with about 400 other girls outside the theatre for an audition, and I got the part."
&nbsp &nbsp &nbsp &nbsp
"But one of my favourite roles ever has to be when I was in Acorn Antiques with Victoria Wood and Celia Imrie. I was in my mid-twenties, and probably took it all a little for granted, at that age you just think that working with such incredible people is what it's always like."
Over a decade ago, Lorraine worked on the original Mamma Mia Musical in the West End, "I covered Donna, Tanya and Rosie," says Lorraine, "so it was always very unpredictable, one day I was Donna in the matinee and then Tanya in the evening."
"Mamma Mia definitely has much more of a family feel to it than other shows I've worked on," says Lorraine, "it's been running for so long, but we all keep in touch, and stay part of the family, in a few weeks I'll be performing with Mazz Murray at a charity event."
Now, Lorraine stars in Mamma Mia The Party at the 02, but audiences who come expecting a bigger version of the show playing at the Novello Theatre are often surprised about how different this show is.
"It's a completely different story," explains Kate,  "I think that's what people are unaware of, they say, I had no idea it was going to be like this, it has exceeded all my expectations. It's set after the Mamma Mia films were made, my character is Kate, the costume designer, who comes back to the island of Skopelos (where Mamma Mia was filmed), and meets Nikos, the owner of the taverna where this show is set."
But Mamma Mia The Party is more than just the show, it's an entire experience, "when you arrive, you have some lovely flatbreads and olives, and they pump through the scents of Greek flowers, so it's immediately very atmospheric."
&nbsp &nbsp &nbsp &nbsp
"The cast mingle with the audience, then at 7.30 the show starts, it runs for about 40 minutes then the main course is served, and the dish that you eat is linked to the story you've just watched. In the second half you get the continuation of the story and your dessert. After the finale you get to stay on and there's a disco, so it's a magical night and a lot of fun."
The set is made from the set of the Mamma Mia movies, and Lorraine says, "the production values are amazing, it is a completely immersive experience. I love getting to talk to the audience as the character, it's written by Sandi Toksvig, so it's humorous and clever and it's fast paced, it has something for everyone."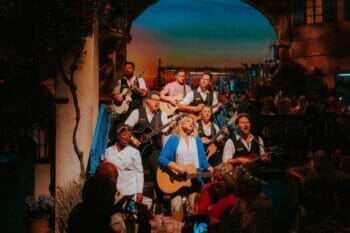 But anyone worried about being part of an immersive experience, can relax, "you can commit to it as much as you want. You can follow the story, you can have a chat with your mates, you can do as much or as little as you like, really.  I think that's what makes this so different from a traditional theatre experience, it's much more relaxed."
Getting to interact with the audience is one of the best things about being in Mamma Mia The Party as far as Lorraine is concerned, "I quite like the unpredictability of it, I always try to stick to what's been written by Sandi because she's obviously talented and good at that sort of stuff. But there are times when things happen and you can't help but have to improvise, that's when it's most fun."
"And of course, no two shows are ever the same, because audiences are different, you might get a big hen party in one night, which might then kind of gee up everyone else, or you might have a very quiet crowd, so we need to adapt to what the audience is like."
Just like Mamma Mia, the cast of Mamma Mia The Party also feel like one big family, "we don't get much offstage time but we do have a bit of a chat and a laugh in the quick change areas. It's all that sort of banter and giddiness that just makes it all lots of fun, it's not like a traditional theatre, so we're lucky to have a big communal space, and we always use that to celebrate birthdays or just be sociable."
And it's a bigger family too, "the majority of the waiting staff are theatre students, so they love to join in during the show, and the catering staff do an amazing job to get all that food out, on time, every single night.  It's really nice that we get to know them too, it feels like an extended company."
Lorraine leads a busy life, as we chat she needs to attend to the Bolognese she's been cooking for when her kids come home, "I have to be very organised and make sure the whole family is fed, including me! Everyone always thinks that we come off stage and then tuck into the food that's just been served, but sadly we don't, I'm a big fan of Tupperware," Lorraine laughs.
As well as performing in Mamma Mia The Party, Lorraine has set up a children's theatre school, "it started as a Saturday class but now there's up to five classes a week, I can't teach myself at the moment but I've got a girl who's on maternity leave from Matilda teaching for me, and I've got a lovely actress called Tiffany Graves, who's like West End royalty, who's also teaching for me, so I'm really lucky in that respect."
"Out of that my mum suggested doing something for adults, so I set up a choir. I have about 30 to 40 weekly members there, and I enjoy the music, we do a mix of stuff. It obviously took a hit during Covid but the choir is going strong, and we have a lovely concert in January with my ex-stage husband, Danny coming as a guest performer, and that's lovely for the ladies."
"I feel like I've put something back into the community and I'm kind of helping people, I had one lady, she had bad asthma, and through singing she said it is greatly improved."
Of course, the ladies of Lorraine's choir love coming to see their teacher perform at the 02, and Lorraine thinks it's a special treat for people to come watch, "when you go and see a West End Show, some tickets are upwards of £100 just for the show, but with us you get the show, plus a four course meal, and you can stay and dance, so it's good value for money. Of course people are struggling right now, but it's a really special night out, and it's a really memorable one."
&nbsp &nbsp &nbsp &nbsp