Lydia White plays Jo in the London premiere of Little Women at Park Theatre, a musical adaptation based on the critically acclaimed 1868 novel of the same name by Louisa May Alcott.
Little Women was first produced on Broadway in 2005, starring Sutton Foster as Jo. Produced by Aria Entertainment, Hope Mill Theatre and Knockhardy Productions, and directed by Bronagh Lagan, the musical had its UK premiere at Hope Mill Theatre in 2017, and is at London's Park Theatre 11th November to 19th December 2021.
Lydia White studied at The Royal Conservatoire of Scotland, "I knew I wanted to do this from quite young age, as most people do," says Lydia, "I went up to Glasgow, and I did the BA in musical theatre. I absolutely loved my time in Glasgow and studying up there at the Conservatoire was amazing. I felt so lucky to be able to do that."
Lydia was quickly cast in productions at Nuffield Southampton Theatres, and has most recently been a standby in the critically acclaimed The Last Five Years at The Garrick Theatre, but her very first role was working with Bronagh Lagan at the Hope Mill Theatre on Rags.
"It was great working with Bronagh at The Hope Mill, so I feel very lucky to be involved with this production. What Bronagh does is create a very collaborative environment, especially for the character that I'm playing, which is Jo. To be able to discover, and play, and feel like part of the process is amazing."
Lydia was initially surprised to hear about a musical version of Little Women, "I think it's such an iconic story, and it's so loved, that I was slightly worried that it wouldn't translate very well into a musical," explains Lydia, "but having worked on it, and listened to the songs, and understood how clever the writing is, I have full faith that everyone's going to love this version as much as we do."
The family that feature in Little Women are based on Louisa May Alcott's own family, and after getting to know the history, Lydia is no longer surprised by the musical links, "the whole family were all very centred around music and arts and literature," says Lydia, "so it feels very appropriate that a musical has been born out of the story. Music is so integrated into Little Women that to make a musical out of it feels very appropriate."
Lydia is already a big fan of the music in this show and tells us how the cast were all reduced to tears during their first run through, "the songs are so beautiful, as you've got a mix of lots of different kinds of styles in there, there's a bit of pastiche and some contemporary ballads too. I think the more you listen to it, the more you see the intricacies, and how clever the writing really is."
"And I think what's amazing about this show is that they've given each character their own voice, and their own style musically. Leo, who is our amazing MD, has put together, a female string quartet, and each sister in the story is being represented by a different string instrument. So, we're reinforcing the voice and the individuality of each sister."
It's not just the music that appeals to Lydia, as she explains, "it really does feel like an extension of the story of the book, it doesn't feel like it has been adapted in a way that cuts anything out, it moves very fast because it is condensing quite a long story into a musical,  but I think what the writers have done so well is capture the essence of every single character in the writing."
Lydia says she feels very lucky to be playing Jo, as the character is based on the novels author, Louisa May Alcott, and discovering more about the inspiration behind her character has been a revelation, "I've become slightly obsessed with her because she was an incredible woman, I mean she was a woman in the 1800s, she was a fierce feminist, she was an abolitionist, her family were very liberal, and her dad was one of the founders of transcendentalism".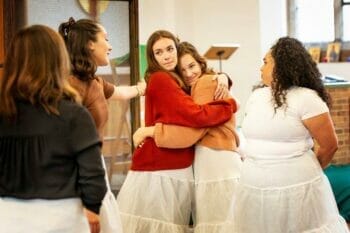 "I think all of that influenced Louisa's life completely, and she wrote Jo as very fiery, and a woman who doesn't want to marry and doesn't want to feel like marriage is the death of freedom for women, which is exactly how Louisa May Alcott felt."
Lydia has enjoyed exploring all aspects of her character,  "I think what's amazing about Jo is that she's very flawed. She's not the kind of sweet heroine that was expected to be written at the time. She's very real."
"And it makes me feel quite emotional when I read about Louisa's life and how she wanted to earn her own money. She didn't want to be married to someone who could provide for her, she was very much an individual, and that's what she's given Jo in this story."
The biggest challenge for Lydia has been capturing Jo's physicality, "I have this image of her that she's always running somewhere, always kind of on the move on to the next thing, and that's not very similar to me, so I've been working on finding her energy, and learning how to not be exhausted from that."
Working with director, Bronagh Lagan has helped Lydia overcome some of these difficulties, "she creates such a brilliant room, it's so open, collaborative, and it's really fun. Because she's one of four sisters herself, she's really passionate about it and that completely translates into all of her decisions. You know from the way she speaks about the characters that she loves them, and she knows them."
With rehearsals coming to an end, Lydia says that the cast have bonded quickly, "we just have loads of fun and everyone is really funny. I'm really excited to see where these friendships go as well, alongside the relationships in the piece, because I think that this is one of those pieces that will stay with all of us for a really long time."
This will be Lydia's first time working at The Park Theatre, but is already excited about it, "I think what's so beautiful about the Park Theatre is it's so intimate, it will really feel like you're in their living room going along on this journey with them."
"I keep saying it's full of life, I can't quite describe what that means, but it just feels like there's so much play and so much fun, and I think that because it's such a well loved story, it's so emotional. Adding the music to it, and adding that pace to it, heightens the emotion completely in my opinion. I think it's going to be really special."