Despite the high esteem it's held in by the musical theatre community, Jason Robert Brown's The Last Five Years hasn't, until now, ever had a run in a large West End theatre. Molly Lynch and Oli Higginson will reprise their roles from the Southwark Playhouse production that garnered rave reviews from audiences and critics alike, when it transfers to The Garrick Theatre this month.
This production of The Last Five Years has had an unexpectedly tumultuous ride but has weathered the storm in more ways than one. Opening at the end of February 2020, it had barely begun, when theatres were forced to close because of the pandemic. With everything still in the same place they left it that closing night, the team moved back in to reopen in October; one of the only shows that was able to do so.
A digital version was also released, and with positive reviews still flooding in, The Last Five Years will finally transfer to the West End's Garrick Theatre, and for Molly Lynch and Oli Higginson, it's a dream come true.
&nbsp &nbsp &nbsp &nbsp
What makes this version, directed by Jonathan O'Boyle, different to previous productions is that the two leads also play instruments live on stage, from piano to ukulele and guitar, at the same time as performing the tricky vocal roles of Jamie and Cathy.
Molly, who was born in Ireland, remembers her first acting role in London with National Youth Music Theatre, "Oli was in it too, it's the first time we met, and I actually stayed with his family, they were so kind and generous to me. It feels like we've come full circle working together again."
Oli, who originally studied Theology at Bristol University before training as an actor at Guildhall, recalls hearing that there was going to be a new production of The Last Five Years in late 2019, "I thought to myself, 'I just have to get an audition for this show', so I spent that Christmas listening to the soundtrack, and bugging my agent to get me in the room."
One of the first people Oli met in the audition room was Molly, and while Oli was desperate to land the role, Molly had some reservations, "I remember thinking when it was announced 'that is the stupidest idea'", she laughs, " I thought there's no way they are going to get anyone who will do that, that piano music is way too hard, the singing is way too hard. It's impossible, what is Jonathan O'Boyle thinking!"
Molly has changed her mind about Jonathan since then, "he's a freaking genius, I don't know how he did it, but he made it happen somehow," she says.
Oli explains, "it's a really unique challenge. It's really well written in that it allows the two actors to go through every shade of life experience you could ever imagine in the space of 90 minutes, which I think is just immediately appealing to any actor who just wants to let loose on the show and challenge themselves."
&nbsp &nbsp &nbsp &nbsp
Molly admits that part of her initial hesitation came from being a super fan of the show, "I've heard all the versions of the songs by all these amazing singers, and I know that the piano part is really difficult, it's almost a character in itself."
"I had to put all that out of my head, stop being a fangirl for a moment, and focus on making this mine and Oli's version of the show, and little by little, it started coming together, and I think we've ended up with something brilliant."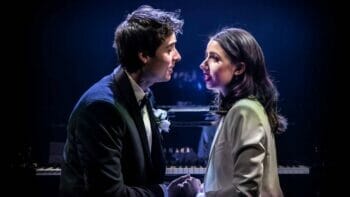 When the show opened at Southwark Playhouse, the outbreak of a novel coronavirus had started hitting the headlines. Within a month all theatres were told to close, "I remember that night so vividly," says Oli, "the audience was only about half full, and afterwards people were coming up and saying 'thank you for being the last show I'll see'".
Molly says it's all a bit of a blur, "there was so much happening, it wasn't just theatres closing, the whole country was going into lockdown, we were worried about our loved ones, wondering when we'd see our parents again, it was a very scary time."
When The Last Five Years returned to Southwark Playhouse in October, things were very different, "we had all the precautions in place," recalls Oli, "and of course the audience were wearing masks, but it did feel amazing to be back, it was like a huge sense of relief really, not many shows had the opportunity we did."
Oli thinks now is the right time for this show to be in the West End, "this is a show that always feels relevant, but maybe after lockdown, and the strain that could have put on relationships, it's more relevant than ever."
"I was walking past The Garrick with a friend the other day," says Molly, "I still can't quite believe I'll be performing there, I think we've all become used to being scared to get too excited or invested in anything, we've had the rug pulled from us so often in the last eighteen months, but this is happening, and I'm desperate for the moment when I'm on that stage with Oli and we're doing it again."
The pair have an undeniably strong bond, "this is a really small cast, so you have two actors that are always on stage, either performing as their character or playing an instrument," explains Molly, "it's like we have two paddles for this boat, and we are going to both keep paddling because that's the only way we can keep going."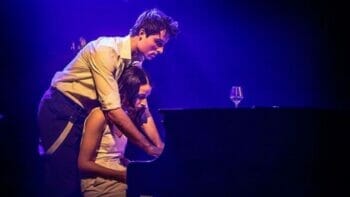 Oli agrees, "I remember wondering who would be cast as Cathy, because as a two hander it's very much a team effort, and the beauty of what we've done is being allowed to experiment, and Jonathan has really facilitated that to allow for a natural evolution. I feel like I've learned a huge amount working with Molly, I think she's awesome. She's incredibly rigorous and disciplined, and hardworking and immensely talented."
"We both have partners in real life," adds Molly, "but no one will ever understand the relationship of doing The Last Five Years with someone, because it's such a massive trust thing, it's a really amazing bond to have with someone, there's just nothing else like it."
Molly and Oli may be on stage, but they know how much they owe to director Jonathan O'Boyle, "I literally couldn't speak more highly of Jonathan, he's fantastic," says Oli. Molly agrees, "We're both obsessed with Jonathan, I think it's the trust thing again, when I auditioned, I was so nervous, but he helped me through it, and he's encouraged me and Oli to do things on stage that I don't even think we believed we were capable of doing. I just think he's a bit of a wizard or something."
Oli continues, "so much of the success of the show is down to the huge amount of hard work that Jonathan has put into it, and his ability to encourage us all to look at the show afresh despite the show having such a strong aesthetic and twenty-year history. He's kind of ignored all that and said how can we look at it now? And I think that's just really admirable."
For both Molly and Oli, this is a challenging show to perform, "there's something about the fact that our journeys are not together," explains Molly, "so I start at the end of the relationship and Oli starts at the beginning, so our energies are always completely different throughout the show."
"It's one of those shows where there's so much that we have to do it's a bit like climbing a mountain, but we just have to take it one step at a time," says Oli, "whether it's playing the piano, or jumping on top of the piano, Jonathan and Molly have relieved me of worrying about that because I feel so safe and secure in just being able to kind of jump in and let go."
Molly Lynch and Oli Higginson have certainly had to overcome a few hurdles in the life-span of this show, but it all seems to paying off, "I can't wait to take this wonderful show to the West End," says Oli, "and to share it with fans and first timers alike."
The Last Five Years, starring Molly Lynch and Oli Higginson, is at The Garrick Theatre 17th September to 17th October 2021.
&nbsp &nbsp &nbsp &nbsp