Sometimes you come across a production that sizzles metaphorically with contemporary relevance.  It's not so often you encounter one that simultaneously sizzles literally.  Mountains: The Dreams of Lily Kwok, currently running at Stratford as part of a national tour, is theatre as part drama, part cooking demonstration, and is a poignant reminder that food is so often at the centre of the stories of all our lives.
Based on Helen Tse's memoir Sweet Mandarin, the play adapted by In-Sook Chappell, reveals the story of Helen's grandmother, Lily from humble beginnings in Imperial Hong Kong to successful Manchester restaurateur.  Seen through the eyes of young British born millennial high flier, Helen, Mountains: The Dreams of Lily Kwok, effectively highlights current themes around ethnic and cultural identity and expectations through changing times.  The remarkable physical likeness of the actors playing Helen (Siu-See Hung) and Lily (Tina Chiang) is used to great effect as Helen enacts the various significant episodes in Lily's (and ultimately her) life, as her grandmother relates them to her and the audience.
From the outset, it is clear, just how significant food and cooking is to this tale of three generations of women.  A definite aroma of oriental spices fills the air as the audience enters and that combined with dry ice, red lighting and bamboo backdrop gives more of an impression of a traditional Mandarin restaurant than an auditorium.
As the action unfolds, this impression is sustained as Lily and Helen add the sometimes sweet, sometimes sharp, and sometimes spicy flavours to the cooking pot of their story right before our very eyes.  Lily chops and stirs fries a Green Chicken Curry, her restaurant's signature dish, as the second half begins following an account of a particularly shocking and brutal episode in her life.  For both the women, significant romantic encounters take place in restaurants in Hong Kong with menu choices oozing with almost farcical sexual metaphor – "soft-shelled crab" and "char-sui pork".  Later on, the sight, sounds and smells of the preparation of Clay Pot Chicken, invokes "the taste of home" so close to the hearts of Helen, Lily and Mabel (Rina Takasaki).
Using only a simple set, effective lighting changes, and clever use of mime, the play takes the audience through a period of history that is significant not only for Lily and her descendants but also for geo-political, cultural and social change, forcing values to be challenged and reassessed.  One thing remains constant throughout Mountains: The Dreams of Lily Kwok, however.  Whatever, life throws at you, however hard the mountains are to traverse, "the recipes are our future…write them down and we're free!"  A lesson for all of us, after all, we all need to eat.
Tour details can be found here.
Production Images by Jonathan Keenan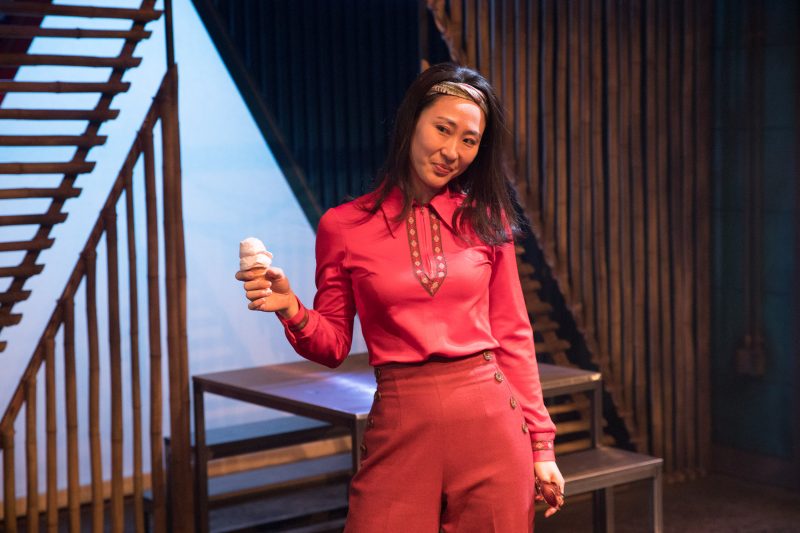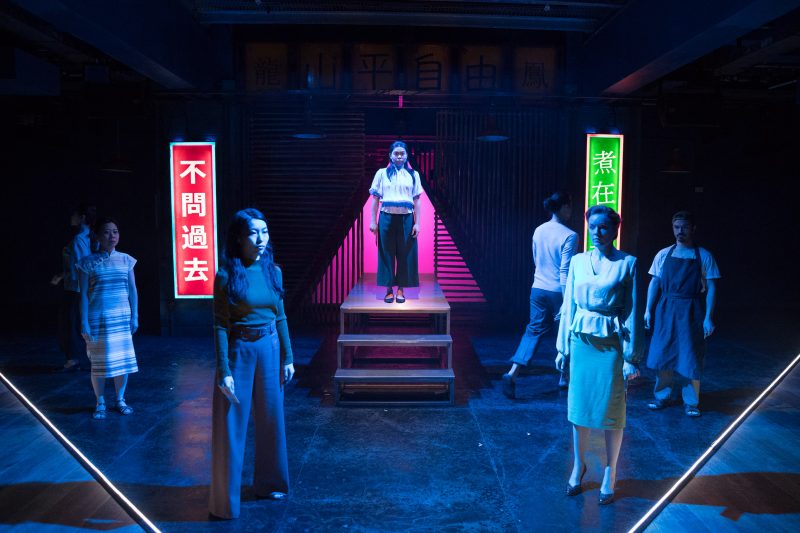 Summary
Reviewer
Review Date
Reviewed Item
Mountains: The Dreams of Lily Kwok at Stratford Circus Arts Centre
Author Rating