Vivaldi Meets Werther: Four Seasons is the latest masterstroke from London-based director Pamela Schermann, currently showing at the Bridewell Theatre as part of Opera in the City Festival 2019. In selecting a legendary text and world-class violinist, there is little room to criticise the fundamentals, so the emphasis naturally falls on Schermann's decision to bring them together.
Sections of Goethe's epistolary novel The Sorrows of Young Werther are brought to life by Samuel Lawrence, who plays the gradually despondent title figure. To the side of the stage, a string quartet settles behind Alda Dizdari, the Albanian-born soloist who leads Antonio Vivaldi's 1717 concerts Four Seasons, while also loosely playing Charlotte, Werther's romantic muse.
The show follows Werther through intrigue, affection, infatuation and self-destruction over Charlotte, adhering to the novel's epistolary style through Lawrence's writhing on his writing desk. In the opening sequences the pair feel somewhat detached, testament to Meg Hodgson's cleverly uneven lighting.
But Vivaldi's crisp sequences transport us to the German forest, with Dizdari's concentrated body flowing inwards towards Lawrence, resulting in a handful of intimate moments. He shares our captivation for the sound. 'I believe every word that is said of the magic of ancient music' he says at one point, while Schermann's sharp editing eventually brings attention to the story's more sinister and possessive undertones.
Lawrence is excellent, his mannerisms bringing out the humour in the text while also steadily pacing his decline. Dizdari is sensational. When Lawrence briefly sits amongst the audience, most eyes are on her despite his intrusion, such is the power and grace of her recital. It's no surprise that Lawrence plays captivation with such ease.
The challenge here is that Goethe's tale is far darker than Vivaldi's music alone. The pairing does work though, owing in large part to animation. Only by Dizdari's own movement can she simultaneously occupy the roles of soloist and character; when she is stationary for prolonged periods, her contribution slides towards accompaniment, albeit still an exceptional one. But Schermann's experiment soars, even as it descends into inevitable tragedy. Perhaps she could extend Goethe's script, if only so we could hear Dizdari long into the night.
Vivaldi meets Werther Four Seasons c. Time Zone Theatre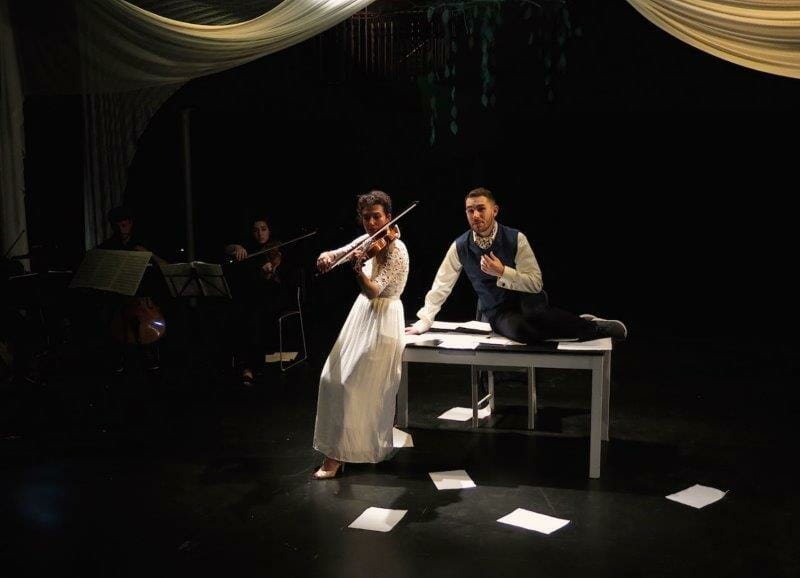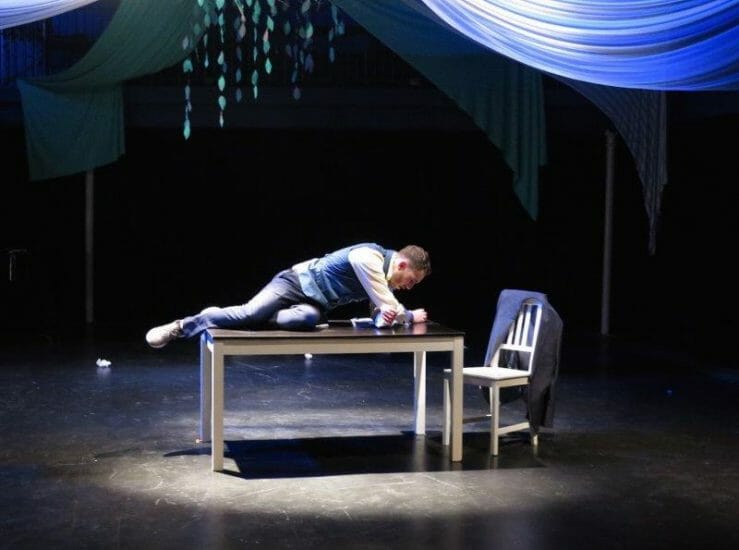 Summary
Reviewer
Review Date
Reviewed Item
Vivaldi Meets Werther: Four Seasons at Opera in the City Festival
Author Rating