Undetectable
King's Head Theatre 12th February to 7th March
Tom Wright's tender, funny and uplifting love story, Undetectable is back by popular demand to open the King's Head Theatre's Spring 2020 season following a critically acclaimed, and highly successful run at the venue in early 2019.
Rikki Beadle-Blair MBE will be reprising his role as director with Lewis Brown (Tuck – Wales Millennium Centre; Sense and Sensibility – US National Tour) and Freddie Hogan (2 Pints of Lager and a packet of crisps – BBC; Jonathan Strange and Mr Norrell – BBC), both returning in their celebrated roles as Bradley and Lex respectively.
&nbsp &nbsp &nbsp &nbsp
The Rage of Narcissus
The Pleasance 18th February to 8th March
Tangram Theatre and Pleasance present a double bill of UK premières directed by Daniel Goldman in his first return to the London stage since the critically acclaimed Thebes Land (2017 Off West End Award for Best Production).
Goldman renews his collaboration with Thebes Land writer Sergio Blanco for The Rage of Narcissus, based on a true story.
&nbsp &nbsp &nbsp &nbsp
The Incident Room
New Diorama Theatre 11th February to 14th March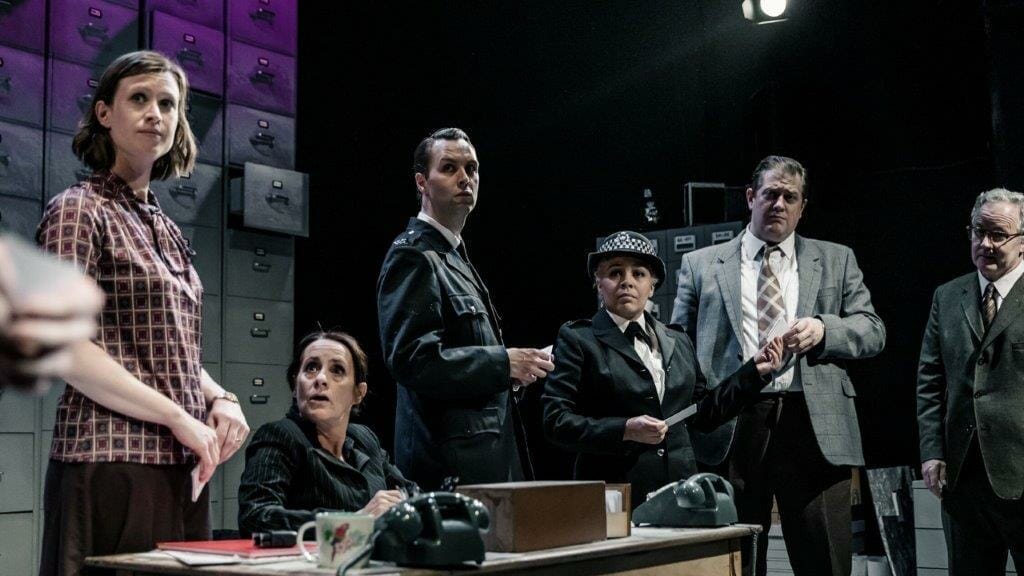 Following a sell-out run at the Edinburgh Fringe, New Diorama Theatre's critically acclaimed crime thriller The Incident Room will have its London premiere this February.
Set in Leeds in 1975, The Incident Room is a forensic examination of the five-year police hunt for the Yorkshire Ripper. With public pressure mounting, the investigators resorted to increasingly audacious attempts to catch one of Britain's most notorious serial killers.
We follow Megan Winterburn, the Sergeant running the new incident room at Millgarth Police Station, the epicentre of the case that nearly broke the British police force.
Macbeth
Greenwich Theatre 26th February to 7th March
Victorious from a bloody battle the triumphant Macbeth is greeted by the three weird sisters. Inspired and driven by their incredible prophecies he sets out on the path to conquer all. A story of ambition, leadership and belief.
This new production is adapted and directed by Ricky Dukes, with costume design by Sorcha Corcoran with lighting design by Alex Musgrave.
Returning to Lazarus Theatre Company, Jamie O'Neill (Revenger's Tragedy / Edward II / Salomé) and Alice Emery (Tis Pity Shes a Whore / The Bacchae / Henry V ) take on the famous couple as Macbeth and Lady Macbeth respectively.
Time and Tide
Park Theatre 5th to 29th February
Relish Theatre are proud to present the world premiere of award-winning writer James McDermott's new play. Time And Tide was longlisted for The Verity Bargate Award, the Bruntwood and Papatango Playwriting Prizes, and developed as part of Park Theatre's Script Accelerator Programme.
Batten down the hatches. A storm's coming. May runs a crumbling caff on the end of Cromer Pier. Her delivery man, Ken, is running out of customers, thanks to Costa. Nemo is desperate to tread the boards in London. His unrequited love, Daz, is burying his head in the sand over his best mate leaving.
Upstart Crow
Gielgud Theatre from 7th February
David Mitchell is to make his West End in Ben Elton's stage adaptation of the critically acclaimed BBC TV sitcom, Upstart Crow.  This all-new comedy – written especially for the stage – will see Mitchell once more don the bald wig and bardish coddling pouch in his iconic characterisation of Will Shakespeare.
Opening at the Gielgud Theatre on 7 February, Gemma Whelan (Game of Thrones and Gentleman Jack) will co-star as the sweet and fragrant Kate.  They will be joined on stage by a troupe of players for this 11 week season, directed by Olivier award-winner Sean Foley (The Ladykillers, Jeeves and Wooster and The Miser).
The Last Five Years
Southwark Playhouse 28th Feruary to 28th March
Jason Robert Brown's Drama Desk Award winning musical, The Last Five Years, is an emotionally powerful and intimate show about two New Yorkers who fall in and out of love over the course of five years.
The musical's unconventional structure unfolds as Cathy tells her story in reverse, from the end of their turbulent relationship, whilst Jamie tells his story chronologically from the spark of their initial meeting. The two characters meet only once, at their wedding in the middle of the show.
Now, this iconic musical returns to London in a bold new actor-musician production with the actors on stage at all times and playing the piano to add a new narrative dimension to the story, accompanied by a four piece band.
Instructions For A Teenage Armageddon
The Old Red Lion Theatre  17th to 29th February
A special preview production of a new 'one-girl show' Instructions For A Teenage Armageddon at The Old Red Lion Theatre, written and performed by Screen International Star of Tomorrow Rosie Day (The Girl Who Fell, "Outlander," "Living The Dream") and directed by Georgie Straight (Eigengrau, Chutney).
Miss-trusted. Miss-treated. Miss you. Welcome to a miss-spent youth. When your sister dies eating a Yorkshire pudding at Sunday lunch (ironic as she rarely eats; well, ate) there are going to be some repercussions… and trouble.
Instructions For A Teenage Armageddon is a call to arms for young women everywhere, and questions why society isn't watching out for our girls as they navigate fading friendships, f**ked up families and forging a trail through adolescence.
The Prince of Egypt
Dominion Theatre from 5th February
The Prince Of Egypt, the brand-new stage musical with music and lyrics by Stephen Schwartz (Wicked, Godspell), a book by Philip LaZebnik (Mulan, Pocahontas) and based on the celebrated DreamWorks Animation film, has its London premiere production.
The Prince Of Egypt features 10 new songs written by Stephen Schwartz, together with 5 of his acclaimed songs from the DreamWorks Animation film, including Deliver Us, All I Ever Wanted, Through Heaven's Eyes and the Academy Award®-winning When You Believe (which was a global hit for Whitney Houston and Mariah Carey as well as a UK chart-topping winner's single for The X-Factor).
Be More Chill
The Other Palace from 12th February
Be More Chill, which premieres at The Other Palace on Wednesday 12 February 2020, is based on the groundbreaking novel of the same name by Ned Vizzini.
With original music and lyrics by Joe Iconis and a book by Joe Tracz, Be More Chill is an international sensation – when the 2015 Original Cast Recording was released by Ghostlight Records, millions of people streamed the album and formed a passionate community of Be More Chill fans, ultimately leading the musical to receive a Broadway production.
In London, the leads roles of Jeremy Heere will be played by Scott Folan (recent credits include Mother of Him at Park Theatre, Damned By Despair at the National Theatre) and Michael Mell by Blake Patrick Anderson (previous musicals credits include Straight Dave in Pet Shop Boys' Closer to Heaven and Starlight Express).
&nbsp &nbsp &nbsp &nbsp