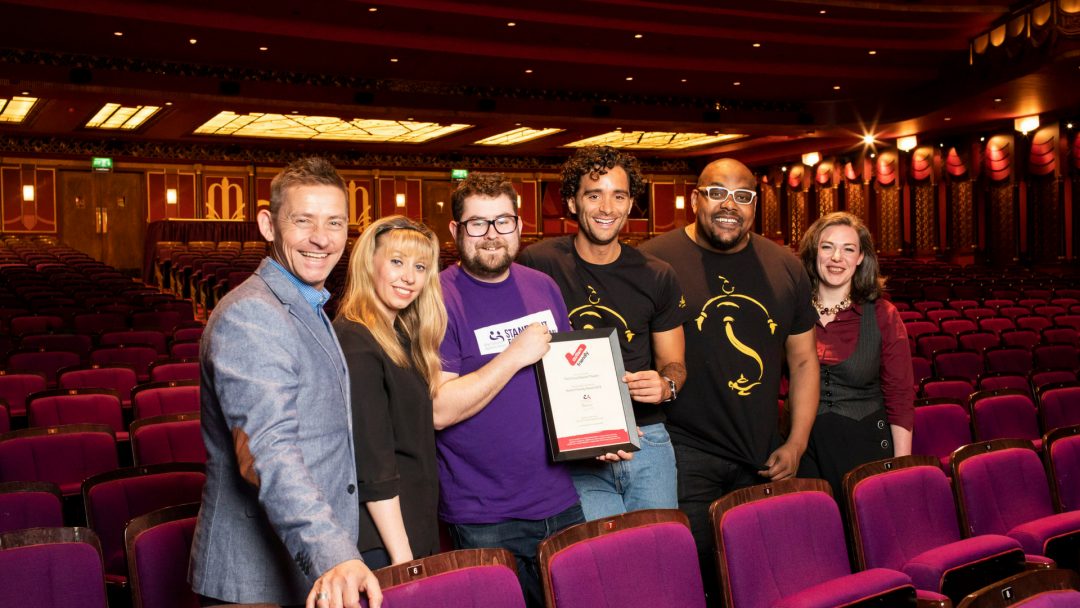 Disney's hit musical Aladdin is delighted to announce that the Prince Edward Theatre, which is owned by Delfont Mackintosh Theatres, is the first theatre in the West End to receive an award from The National Autistic Society celebrating its achievements in welcoming autistic guests and their families through training, staff awareness and initiatives such as the hit show's Autism-Friendly Performances.
Disney works with The National Autistic Society, the UK's leading charity for autistic people and their families, to deliver the specially staged performances every year which are designed to make the show more accessible for those affected by autism.
The dedicated Autism-Friendly Performances of Aladdin include modifications to the booking process, performance and the theatre environment, including:
The theatre's foyer includes designated quiet and activity areas; staffed by experts in autism throughout the performance should anyone need to leave their seats.
Slight adjustments are made to the performance itself, including the reduction of jarring sounds or strobe lighting that face the audience.
The cast of Aladdin along with Prince Edward Theatre box office and front of house staff have been given training to understand the needs of an audience made up of adults and children who are autistic.
A specific website has been set up for this performance, linking to a dedicated booking page. The website includes a downloadable 'visual story' to help people with autism understand the process of a visit to the theatre, thus aiding their comprehension of the experience and reducing anxiety by explaining each step from arriving in the foyer to the final curtain call.
The next dedicated Autism-Friendly Performance of Aladdin will take place at 1.30pm on Tuesday 28 August 2018. Audience members can find out more information and purchase tickets at www.aladdinthemusical/autismfriendly. Tickets are sold at a specially reduced rate and can be selected on a virtual map of the auditorium.
Nancy Shakerley, Education and Outreach Manager for Disney Theatrical Group, said: "We are extremely proud to have worked closely with our colleagues at the Prince Edward Theatre to achieve the Autism Friendly Award. We are excited to be holding another Autism-Friendly performance again this summer – Autistic guests and their families are, of course, welcome at any performance but we understand that this more relaxed environment is preferable for some guests."