Sha Dessi plays Eponine in Les Misérables, which has just announced an extension to its booking period.
Since Cameron Mackintosh first conceived this acclaimed new production of Les Misérables in 2009, to celebrate the show's 25th anniversary, it has taken the world by storm. It will relaunch its record-breaking tour of North America in October this year, a new tour of The Netherlands is set for early 2023 with further productions to be announced. The UK and Ireland tour continues its acclaimed run.
Boublil and Schönberg's magnificent iconic score of Les Misérables includes the classic songs, I Dreamed a Dream, On My Own, Stars, Bring Him Home, Do You Hear the People Sing?, One Day More, Empty Chairs at Empty Tables, Master Of The House and many more. Several of its songs have become real life anthems of revolution wherever in the world people are fighting for their freedom. Seen by over 120 million people worldwide in 52 countries and in 22 languages, Les Misérables is undisputedly one of the world's most popular and contemporary musicals.
&nbsp &nbsp &nbsp &nbsp
Les Misérables has just announced an extension into next year, why do you think audiences are still so excited to see this show?
Personally, I think it's thanks to two things: the perfect material and the characters. It's so great to see countless different interpretations with each new cast change, especially for the people who already love the show, how exciting to get a chance to go see a different actor that creates a different sound and interprets the material totally differently. I think people are still so excited because it's never the same and always feels new.
You're playing Eponine, what do you love most about the character, and what do you find most challenging about the role?
Coincidentally, the same answer for both. The material. I think they are some of the most poetic words and melodies I've heard but for me personally it is not an easy sing.
And this is your West End debut, what's it like to start your career in one of the biggest musicals of all time?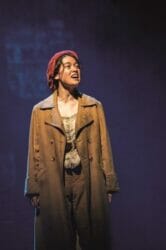 Some fear comes with it of course, in terms of pressure to do the piece justice for myself and especially the large Les Mis fan base. But it's exciting more than anything. I wasn't sure how long it would take or if I would ever manage to book an acting job, so it's definitely a huge surprise.
What do you think has been your biggest learning from the team you work with?
Other members of the company have helped me in terms of just doing the best you can in the moment and letting go of mistakes. It's easy to get upset when something doesn't go the way you want it to on stage. You can't do anything about the note you didn't sing as clearly as you wanted to 3 shows ago. If you've made a mistake, all you can do is try to fix it next time. Which is still a difficult thing to grasp but I'm hoping to get there.
Where would you like to take your career after your time in Les Misérables?
If I had a choice, I'd like to do something different. Whether that be a different musical style, something with no music at all or something that isn't totally sung through. More than anything I'm curious about how other types of performances and companies run.
What would you say to anyone thinking of booking to come see Les Misérables?
I'll give you one spoiler… it's not happy. Seriously though, the story resonates with so many people, and there's a reason it has been on for so long. I catch people in the audience who come often, and it is wonderful to see the joy on their face at every curtain call, so please come!
&nbsp &nbsp &nbsp &nbsp