As the Edinburgh Fringe draws to a close for another spectacular year, it's time to reveal Theatre Weekly's Best of the Fest 2019.  Chosen by our team of reviewers these are the shows and companies that delivered outstanding work across a number of categories.
Best Event: Symphonic Ibiza at Underbelly's Central Hall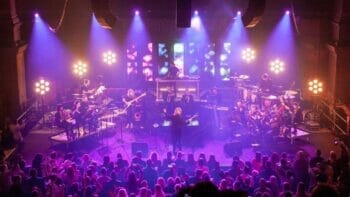 Combining the best Ibiza dance anthems with a live DJ and an orchestra made Symphonic Ibiza an incredible night of euphoric dancing, banging tunes and a stunning performance.
The party night based in Underbelly's Central Hall was a totally unique Fringe experience and created a wonderful sense of inclusivity for its audience.
&nbsp &nbsp &nbsp &nbsp
Best Stand Up Comedy: Adam Hess at The Pleasance 
Adam Hess's frenetic energy and impressive wealth of material helped get him to the top of our list with My Grandad Has a Fringe.
How seriously he takes the frivolous and mundane meant our reviewer felt Adam Hess was "pound for pound one of the best shows" in Edinburgh this year.
Best Comedy Group: Police Cops: Badass Be Thy Name at Assembly
For our reviewer, Police Cops who have become regulars at Edinburgh Fringe, are masters of their craft.  Their perfect comedic timing, slick transitions, non-sensical tangents and genius level of creativity (plus coats that turn into vending machines) means that Nathan Parkinson, Zachary Hunt and Tom Roe find themselves Best of the Fest 2019 for comedy group.
&nbsp &nbsp &nbsp &nbsp
Best Dance and Physical Theatre: Lovely Girls at Zoo Southside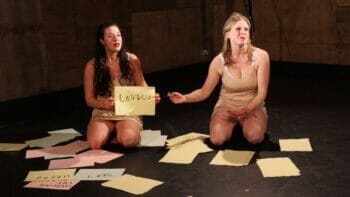 Our reviewer was impressed by Lovely Girls unique format which made it stand out to other shows. The story is one that is very topical to every modern or millennial woman's experience, dealing with double standards, bias, doubt, shame, and guilt. It is energetic, resonant, and unapologetic. The choreography in Lovely Girls was "not to be missed" as the show mixed dance and comedy while feeding a core thematic message.
Best Monologue: Ripped at Underbelly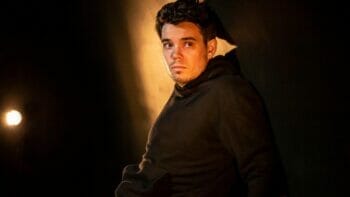 Alex Gwyther both wrote and performed this incredibly skilful monologue that felt intimate and personal to every audience member that took a seat at Underbelly Cowgate.  Tackling male rape, toxic masculinity and male friendship, this beautifully constructed monologue was as captivating as it was devastating, with an electrifying performance from Gwyther.
Best Theatre: Theatre Re's Birth at Pleasance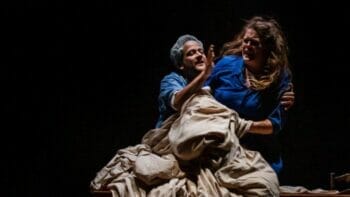 Theatre Re returned to the Fringe following their success with The Nature of Forgetting in 2017.
Their new show Birth, which looks at the joy of pregnancy and the devastating consequences of losing a child has to be one of the most beautiful and accomplished pieces of  theatre to be staged at the Fringe.
Best Ensemble Performance: The Last of the Pelican Daughters at Pleasance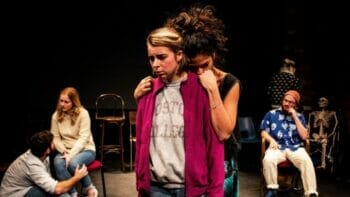 Fresh from a West End transfer of previous Fringe hit, Education, Education, Education, The Wardrobe Ensemble returned to where it all began for them with a brand new piece of theatre.  The Last of The Pelican Daughters was a fantastic piece of writing, but it was the tight-knit group of performers and creatives who made this piece stand out from the crowd.
Best Solo Performance: Lewis Doherty in Boar at Pleasance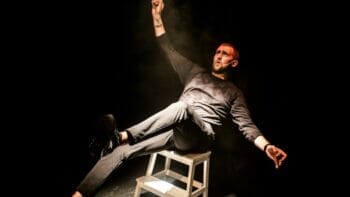 Our reviewer said that this show couldn't be compared to anything else at the Fringe, and while on paper Lewis Doherty's one-man fantasy epic shouldn't work, it absolutely did.  It is Doherty's dedication to the piece that brought it on to our list, Doherty used "every fibre in his body, and every note in his voice" to make Boar feel like it had a Hollywood cast of 200.
Best Play: On The Other Hand, We're Happy at Paines Plough ROUNDABOUT @ Summerhall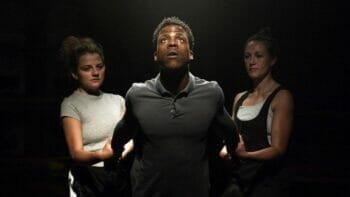 On The Other Hand, We're Happy, from renowned Welsh playwright, Daf James, made it on to our list for its combination of the graceful fluidity of the writing, slick and dazzling direction and gifted cast.
Our reviewer called this a "well-oiled storytelling machine that guides the audience through an intense and emotional thrill ride".
Unfortunate: The Untold Story of Ursula The Sea Witch – Best Musical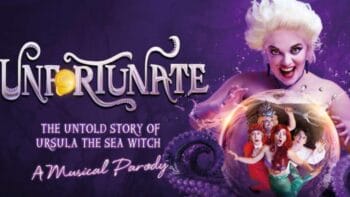 If you haven't already heard of Fat Rascal Theatre take note now, they have become the very definition of parody musicals and with a string of Fringe successes under their belt they returned to Edinburgh with possibly their best work to date.  In this very different and hilarious take on Disney's The Little Mermaid it was Ursula the Sea Witch who becomes the hero of the story.
Best Musical Performance: Ed Zanders in Piano_Play at Underbelly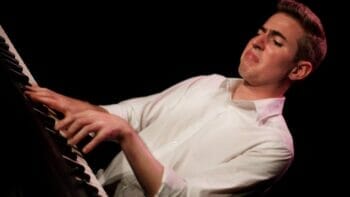 When it comes to love it turns out there's a fine line between endearing and creepy, and Calum Finlay's script, based on a true story, wonderfully captures that by asking the audience to define exactly where the line sits.  Ed Zanders' magnificent musical performance as sweet, if naive, Tom made Piano_Play one of the must see pieces of the Fringe, and easily made it in to our Best of the Fest.
Best Writing: The Good Scout by Glenn Chandler at theSpace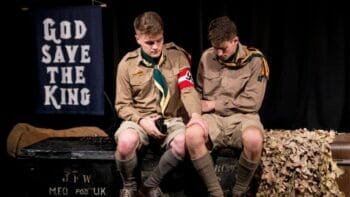 Glenn Chandler has been amazing critics and audiences alike at the Fringe for years, and his newest play is no exception.
An unbelievable tale (that's all true) about an exchange programme between The Hitler Youth and The Boy Scouts, combined with an LGBT theme made this a funny, charming and gripping piece of contemporary theatre.
Best Venue: The Greenhouse by Boxed In Theatre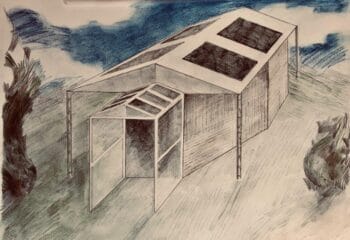 As much as we all love Edinburgh Fringe, we can't ignore the fact that it comes with damaging consequences for the environment (just think of all those flyers!).  Boxed In Theatre created the Fringe's very first zero waste venue, built entirely from reclaimed and recycled materials in the grounds of Dynamic Earth.  With nine productions where tickets cost no more than £5 it was also one of the most accessible venues in Edinburgh this year, but most of all the team there were so welcoming and friendly, visiting The Greenhouse was never anything but a pleasure.
Read The Interview With Artistic Director Oli Savage
Best Fringe Debut: Paper Mug Theatre 
Edinburgh Fringe is very much a springboard for new and emerging companies, but with so many making the trip to Edinburgh it's no easy task to stand out.  Paper Mug Theatre, comprised of E15 graduates Sebastian Gardner, Rory Thomas-Howes and Josh Tucker, came to Edinburgh with not one but two productions.  Both shows pulled in four and five star reviews as well as great audience feedback, but it was their unwavering passion and determination to create the best theatre possible that landed them our Best Fringe Debut accolade.
Read I Lost My Virginity to Chopin's Nocturne in B Flat Minor Review