As another difficult year comes to a close, and with theatres facing yet more uncertainty, it was even harder than usual to choose our top ten shows of 2021.
Everyone involved in the industry has put in a truly heroic effort, and no matter what the next few months have in store, we're truly grateful to anyone and everyone who has gone above and beyond to bring live theatre back to audiences.
This year's list represents our reviewers favourite shows of the year, the one's that stood out the most from all the great theatre that our fabulous industry worked so tirelessly to create.
&nbsp &nbsp &nbsp &nbsp
Theatre Weekly's Top Ten Shows of 2021:
For several months at the beginning of 2021, the only theatre available to us was work that was created for online. So, we start our list with In Pieces, the song cycle from Joey Contreras that received its European Premiere as a feature film back in April, directed by Louis Rayneau. High production values, stunning performances and the joyous songs of Joey Contreras earned In Pieces its spot on the list.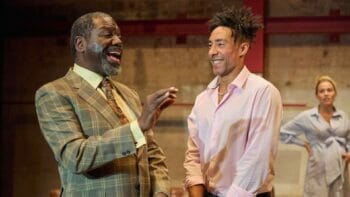 Archie Maddocks' poignant comedy A Place for We at the Park Theatre in a co-production with The Talawa Theatre Company, explored the ever-changing face of London. The thought provoking script packed so much into its running time, while maintaining a strong balance of comedy and emotion.
The production, which ran at The Park Theatre October to November this year, starred David Webber, Blake Harrison, Joanna Horton, Laurence Ubong Williams, Kirsty Oswald and Harold Addo. It was directed by Michael Buffong.
As theatres started tentatively reopening in June, The Donmar Warehouse revived Nick Payne's Constellations. In an innovative producing model, devised in response to the pandemic, four brand new casts took turns to journey through the multiverse exploring the infinite possibilities of a relationship; each refracting the play afresh.
Exceptional performances from Sheila Atim and Ivanno Jeremiah, Peter Capaldi and Zoë Wanamaker, Omari Douglas and Russell Tovey, and Anna Maxwell Martin and Chris O'Dowd made this one of the must-see theatre events of the year.
&nbsp &nbsp &nbsp &nbsp
By late October, theatres were well and truly back to full capacity and were (at that point) not being so heavily affected by the 'pingdemic'. Audiences were enjoying again the freedoms of mixing and socialising and no other show in the West End captured that feeling so perfectly.
The Choir Of Man is the best trip to your local you'll ever have, featuring amazing reinventions of folk, pop, Broadway and rock chart-toppers from artists including Guns 'N' Roses, Fun!, Adele, Avicii, Paul Simon, Sia and many more. It's a party, it's a concert and it's a lock-in like no other.
The cast of nine multi-talented guys combine beautiful harmonies and foot-stomping singalongs with world-class tap dance and poetic meditations on the power of community. This is a riotously feel-good homage to that gathering place we've all missed so much over the past year: the pub, complete with a real working bar on stage.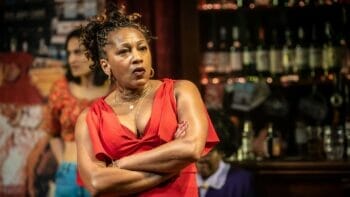 While The Arts Theatre had a bar on stage, The Kiln Theatre turned the theatre into a working pub for Zadie Smith's The Wife of Willesden.
Critically acclaimed, multi-award winning, best-selling author Zadie Smith made her playwriting debut, transporting Chaucer's The Wife of Bath to 21st Century North West London and impressed our reviewer for building a bridge between the past and present, while portraying strong women who are using their voices in the community.
Directed by Jonathan O'Boyle, Molly Lynch and Oli Higginson reprised their roles as Cathy and Jamie, following a critically acclaimed run at Southwark Playhouse and a highly successful worldwide stream with stream.theatre.
This was the first time the musical had a significant run of length in the West End, and the production team made the most of it, with an absolutely beautiful staging of Jason Robert Brown's Drama Desk Award-winning musical.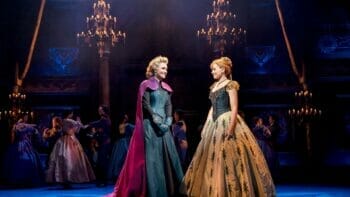 4: Frozen – Theatre Royal Drury Lane
After being delayed by the pandemic, the transfer of the Broadway musical Frozen, finally arrived at the newly refurbished Theatre Royal Drury Lane at the end of August.
Truly jaw-dropping staging made this production a firm favourite, while Samantha Barks and Stephanie McKeon wowed audiences with their portrayal of sisters Elsa and Anna, and who's heart didn't melt at the sight of Craig Gallivan as Olaf?!
This magically marvellous production continues to delight audiences, and we hope it does so for a long time to come.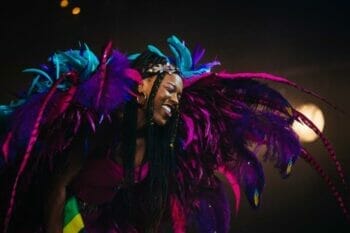 3: J'Ouvert – Harold Pinter Theatre
In May, as live performance re-emerged, Sonia Friedman Productions created a space for vital, new voices and fresh talent in the West End and beyond, working alongside some of the industry's greatest theatremakers and artists. Three extraordinary plays were curated by Sonia Friedman Productions with Ian Rickson and presented at the Harold Pinter Theatre.
Walden opened the season, while Anna X closed it, but it was Yasmin Joseph's J'Ouvert that got our reviewers really excited, as the sounds and sights of Carnival were brought indoors and demonstrating that theatre can appeal to a wide range of audiences.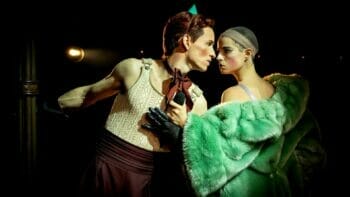 2: Cabaret – The KitKat Club (The Playhouse Theatre)
It's one of the most successful musicals of all time, but add in Eddie Redmayne and Jessie Buckley giving the performances of the year, and suddenly Rebecca Frecknall's production became one of the most exciting productions to open in the West End for a very long time.
The incredible cast also includes Omari Douglas and Stewart Clarke, plus a prologue company who make the audience feel part of the show from the moment they walk through the door.
This immersive production understandably has audiences drooling with awe, and if you're lucky enough to secure a ticket you're in for the most enormous treat.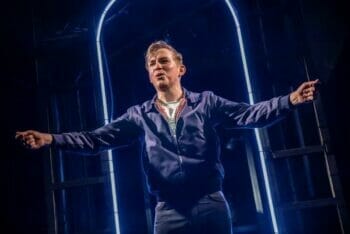 Other productions on this list will have had bigger budgets, star casting, or existing reputation to get audiences into seats. Jack Holden's cruise, was written in the first lockdown and was originally presented online, before becoming one of the first plays to open in the West End following the easing of restrictions in May.
Based on a true story Jack was told whilst volunteering for Switchboard, the LGBTQ+ Listening Service, this World Premiere, directed by Bronagh Lagan, shone a light on a generation devastated by HIV and AIDs.
Wonderfully written and performed by Jack Holden (with original new music performed live by The Little Unsaid's John Elliott) this mesmerising play held audiences captivated, and ended up being a completely sold-out run.
The bravery of Jack Holden, the producers, and everyone involved in this exceptional piece of theatre, paved the way for the return of the West End we had so desperately been missing.